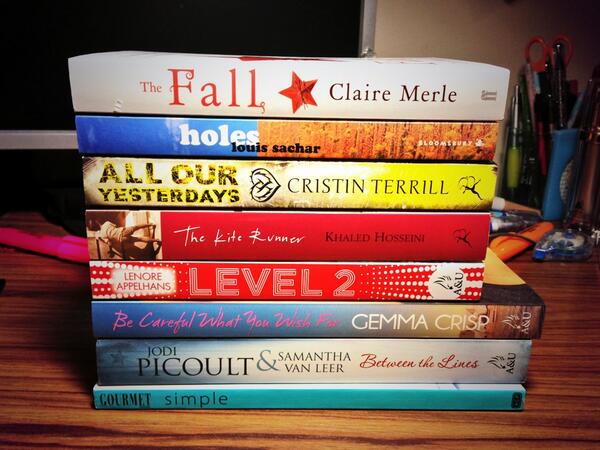 I went on a little of a spree today at work, as you can see! Allen & Unwin held a book sale yesterday at the office with funds being donated to the Indigenous Literacy Foundation. As I wasn't there yesterday all thanks to uni, I went down and browsed through the remaining books on offer and left with eight!! These were actually priced at $5 each, but it was slashed to $2 by the end of the day and I got them at that price.
As you can see, I actually bought myself the finished copy All Our Yesterdays by Cristin Terrill because I just love it THAT much. I will probably give the copy of my ARC to a friend – and on the chance she doesn't want it, I'll run a giveaway! I also bought the finished copy of Level 2 by Lenore Appelhans. I grabbed a very earlier ARC from work a few weeks back from the free table but haven't gotten around to it yet. I may give it away to someone or do a giveaway with that and AOY. Not sure yet!
So what are you stacking your shelves with today/this week/this month?
The following two tabs change content below.
Joy is the head honcho of
Thoughts By J
. Her favourite genres are fantasy, sci-fi, mysteries, and the occasional romance that makes her heart beat faster. You'll find she's quite sporadic with her blog posts, but will definitely find the time to reply to all your comments, and visit your blogs...it's just a matter of when.