Director: David Fincher
Cast: Ben Affleck, Rosamund Pike, Neil Patrick Harris
Genre: Mystery, Thriller
Rating: ★ ★ ★ 1/2
Australian Release: 1st October 2014
* * *
Thanks to Hachette Australia, I was one of the lucky ones to have won tickets to the Gone Girl exclusive premiere in Sydney last night. I picked up the book last week and had just completed it on Tuesday before the movie. I will have a review up for the book soon but let me just say … it was a royal mindscrew. But, I did enjoy it overall.
I dragged my boyfriend along yesterday night and warned him that the movie will scar him about marriage. This was actually one of the movies we both really wanted to see, so I was eager to gauge his reaction. Let's just say he was thoroughly scarred, which I take as a good reaction because this movie isn't just a mystery, but a psychological thriller at its root.
Gone Girl follows a man named Nick Dunne (Ben Affleck) whose wife Amy (Rosamund Pike) disappears on their fifth anniversary. He comes home to find the door left wide open, the iron left on and the living room showing signs of a struggle. First thing he does is alert the police … but Nick is missing an alibi, and the crime scene looks suspiciously like one of a homicide.
Every clue that the police finds suggests Nick is the culprit, but as he follows the anniversary treasure hunt clues left behind by Amy, a different story seems to unfold. And it suggests that Amy might actually be alive.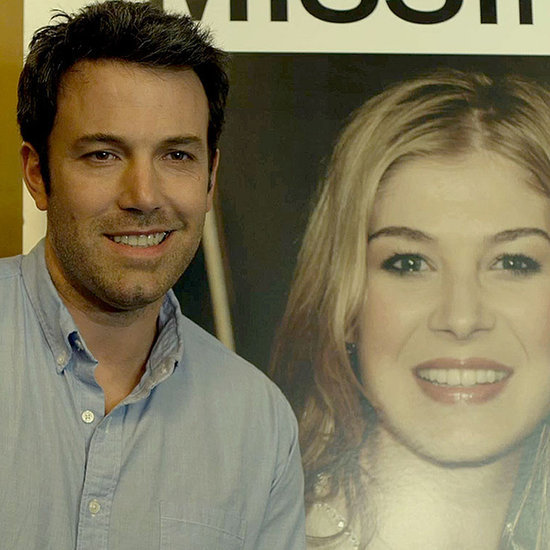 Ben Affleck plays the Nick that I had imagined in my mind. His awkward posture and stoic face perfectly portrays the character that Nick is described as. A man that worries about how people think of him. A man who does not do well under pressure, and doesn't act like the worried husband that people expect him to be. And the media latches on to his odd behaviour because it's an angle that sells. And let's not forget how in most missing women cases, the husband always seems to be the guilty culprit. Our society jumps to conclusions because it's easy to blame someone, and the media certainly doesn't help in that aspect.
As a media student, I found it so fascinating how a simple story can be twisted just so to paint someone as guilty or innocent. Everyone wants a story that sells, and it's disgusting the way the media does it because they are essentially toying with a person's life. This film will open up your eyes to the media and its news – never take the news as it is, always ask questions, and always do your research.
Aside from Affleck, this movie is filled with amazing actors that portray their characters to a tee. Rosamund Pike was the (Amazing) Amy I pictured and she was able to show a distinct swing between loving, scared, worried and crazy perfectly. Every character in this movie is completely flawed, but realistic. You might argue this realism once you've seen the movie, but from a psychological point-of-view these people exist. They might not be of the norm, but they exist out in our world, and what's scary is they can act just like you or I.
As an adaption, this movie is very true to the book, thanks mainly to the fact that Gillian Flynn was also the screenwriter for the movie. Of course, certain events and scenes are glossed over due to the time frame but this doesn't detract from the movie at all. Readers of the books might find it annoying that certain twists and crucial scenes are skipped over altogether though. I would suggest you to not reread/read the book prior to watching this movie for the full impact of the story.
I'm happy to say that the ending has not changed. The ending to the book was infuriating, but I liked it all the same because it was just different and realistic to the story. I know a lot of people hated the ending, so I'm aware that a majority will leave the cinemas furious as well. I will just say that I was happy with the ending, and leave the rest for you to judge.
Overall this movie deserves from high praise for its actors' portrayals of Gillian Flynn's characters. They were so on-par that I almost believed they were real. I recommend this movie to all lovers of mystery and psychological thrillers, but it's not for the squirmish or the weak-of-heart.
First Date Potential: Not unless you want them to seek therapy.
The following two tabs change content below.
Joy is the head honcho of
Thoughts By J
. Her favourite genres are fantasy, sci-fi, mysteries, and the occasional romance that makes her heart beat faster. You'll find she's quite sporadic with her blog posts, but will definitely find the time to reply to all your comments, and visit your blogs...it's just a matter of when.