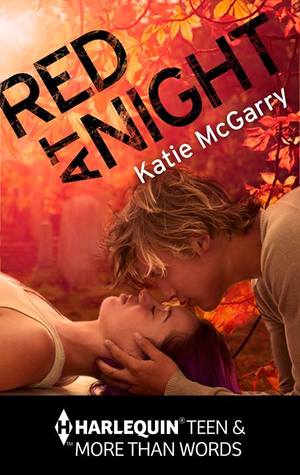 Title: Red at Night (Harlequin More Than Words)
Author: Katie McGarry
Rating: ★ ★ ★ ☆ ☆
Genre: Contemporary, Romance, Young Adult
Format Read: Ebook, 84 pages
Publication Date: 1st April 2014 by Harlequin Special Releases
Synopsis: "In Red at Night, Stella and Jonah are total opposites. She's the girl with purple hair from the wrong part of town. He's a high school senior who hangs with the cool crowd. Until a car accident leaves him haunted by guilt, and Jonah starts spending time at Stella's favorite refuge…the local cemetery.

Stella knows she should keep her distance—after all, she spent her girlhood being bullied by Jonah's friends. Once he's sorted out his tangled emotions, Jonah won't have time for her anymore. Too bad she's already fallen for him." (Taken from Goodreads)
[divider]
Red at Night by Katie McGarry is a mini book written as part of Harlequin's 'More Than Words' award series, which is given to three remarkable women whose visions and courage have changed the lives of others. Three award-winning authors are chosen to create a story inspired by these remarkable women, and McGarry's Red at Night helps promote the Goodie Two Shoes Foundation run by one of these women.
I will start off by saying that I've never read a McGarry book, but have heard some pretty good things about them. I know she's a contemporary author and writes well. Red at Night confirmed that, I enjoyed McGarry's writing style and also the story as a whole. But was it unique? No, it was not.
The short story follows the perspective of Stella, a girl with a troubled family life, and Jonah, a boy who witnessed the death of another person. They meet at the cemetery, a place that Stella hangs out at because it's considered a 'constant' in her life. Jonah and Stella both attend the same high school, and has a history where Jonah's friends bullied Stella for being poor. It is essentially an 'opposites attract' romance, and nothing really more than that.
I don't know the amount of times I've read similar stories like this, where the popular guy falls for the weird girl. While McGarry did a great job telling Stella and Jonah's story, and incorporating the Goodie Two Shoes Foundation subtlely, I was not blow away by this story novel. After finishing the novel, I read a review on one of my bloggy friends' blogs on one of McGarry's full length novels, and noticed that she takes the same formula of characters and plot with each of her novels. The only difference is she gives them different backstories and appearances, but I'm pretty sure they all lead to the same thing.
Red at Night is a good story, and it's supporting a wonderful cause. But if you're looking for a short novel that will change your perspective on life, this is not the one. It's worth a quick read, and if you're like me and want to try McGarry's writing before investing in one of her full-length novels, then definitely give this a go. After all, it is free for download on Amazon.
The following two tabs change content below.
Joy is the head honcho of
Thoughts By J
. Her favourite genres are fantasy, sci-fi, mysteries, and the occasional romance that makes her heart beat faster. You'll find she's quite sporadic with her blog posts, but will definitely find the time to reply to all your comments, and visit your blogs...it's just a matter of when.