Hi lovely people, it's been a very busy week (more on that tomorrow) so we're here to procrastinate by doing the Gifs & Books tag! Thank you so much to the lovely Gina @ Behind the Pages for tagging us. Make sure you click on the link provided to see her tag as well.
So basically how this tag works is Gina has provided us with a list of 10 books and we have to find the one perfect gif that captures our thoughts on that book. It's harder than it seems!
* * *
1. The Twin's Daughter by Lauren Baratz-Logsted
Joy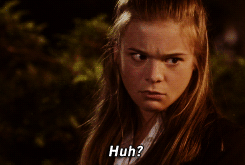 Never heard of this book…
Alana
I have also never heard of this book… I have a feeling this will be a common theme. ALANA NEEDS TO READ MORE!
2. Dangerous Girls by Abigail Haas
Joy
Ahem…so I still haven't started this one yet heh heh.
Alana
I've heard of this one! No idea what it's about though… *hangs head in shame*
3. Gone by Michael Grant
Joy
Words cannot contain the emotional rollercoaster I was on throughout this book. I felt hope, hate, anger and disgust all at once. It was brilliant.
Alana
I haven't read this one either! Man I suck at this..
4. Storm by Brigid Kemmerer
Joy
This is my reaction to every Merrick brother.
Alana
I have not heard of this book… Oops?
5. Throne of Glass by Sarah J. Maas
Joy
I will admit that the first book isn't that strong unless you've read The Assassin's Blade prior. But you know what, I've been supporting Sarah since FictionPress so I still really enjoyed it.
Alana
This is on my TBR List! I really want to read it.. it's looks super interesting! But I'm too poor at the moment to buy it 😛
6. Side Effects May Vary by Julie Murphy
Joy
Just another book in my pile that I've yet to read.
Alana
I'VE READ THIS ONE! HALLELUJAH! It was kinda meh though
7. Wildwood Dancing by Juliet Marillier
Joy
Sigh, and this one.
Alana
Man.. I need to get reading more!
8. All Our Yesterdays by Cristin Terrill
Joy
I NEED THE NEXT BOOK NAOOWWWWW!!!!
Alana
*hangs head in shame*
9. Paranormalcy by Kiersten White
Joy
I bought a copy years ago but have never bothered to pick it up to read. Oh well, maybe some day…
Alana
I… have not read this one either.
10. Poison Study by Maria V. Snyder
Joy
I read this years ago and I think I enjoyed it but I just can't remember. Oops?
Alana
I've actually read this one!!! I remember liking it! But it was ages ago.
[divider]
That was super fun! Thanks for tagging us Gina. 🙂
We tag:
Francoise @ My Crazy Bookish World
Zoe @ The Infinite To-Read Shelf
Carmel @Rabid Reads
Jess @ MyReadingDress
Your books:
This Song Will Save Your Life by Leila Sales
A Thousand Pieces of You by Claudia Gray
More Than This by Patrick Ness
Crazy Rich Asians by Kevin Kwan
Uglies by Scott Westerfeld
The Truth About Forever by Sarah Dessen
The Jewel by Amy Ewing
Gone Girl by Gillian Flynn
The Maze Runner by James Dashner
We Were Liars by E. Lockhart
The following two tabs change content below.
Joy is the head honcho of
Thoughts By J
. Her favourite genres are fantasy, sci-fi, mysteries, and the occasional romance that makes her heart beat faster. You'll find she's quite sporadic with her blog posts, but will definitely find the time to reply to all your comments, and visit your blogs...it's just a matter of when.