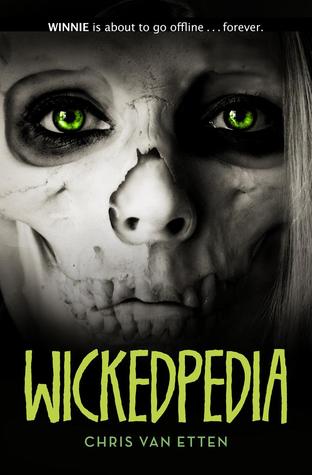 Title: Wickedpedia (Point Horror)
Author: Chris Van Etten
Rating: ★ ★ 1/2
Genre: Horror, Mystery, Thriller
Format Read: Paperback, 224 pages
Publication Date: 24th June 2014 by Scholastic Australia
Synopsis: "It's the return of Point Horror for the Internet generation! Don't open the door. Don't answer your phone. And whatever you do, DON'T turn on your computer. . . .

Cole and Gavin love playing practical jokes through Wikipedia. They edit key articles and watch their classmates crash and burn giving oral reports on historical figures like Genghis Khan, the first female astronaut on Jupiter. So after the star soccer player steals Cole's girlfriend, the boys take their revenge by creating a Wikipedia page for him, an entry full of outlandish information including details about his bizarre death on the soccer field.

It's all in good fun, until the soccer player is killed in a freak accident . . . just as Cole and Gavin predicted. The uneasy boys vow to leave Wikipedia alone but someone continues to edit articles about classmates dying in gruesome ways . . . and those entries start to come true as well.

To his horror, Cole soon discovers that someone has created a Wikipedia page for him, and included a date of death. He has one week to figure out who's behind the murders, or else he's set to meet a pretty grisly end." (Taken from Goodreads)
[divider]
As you can probably tell already, I don't read horror. I tried my hand at it once and I just couldn't get through the book. And when I say horror, I mean like Stephen King style. It just doesn't grip me for some reason. Give me action any day!
When this book arrived unsolicited, I was intrigued however. It seemed like the perfect Halloween read, so I've been holding off my review until now. Sorry if I get some facts wrong here and there … I read this back in early September so my memory is a little hazy.
This book follows a boy named Cole, who is a shoo in for valedictorian. He's your typical smart guy who suddenly gets his heart broken by his girlfriend who dumped him for the jock. There is a lot of predictable high school drama that sets the scene at the beginning, but it soon gets interesting as Cole and his best friend Gavin decides to take revenge on the people who have wronged them at school. Their practical joke is pretty harmless at the beginning, when they decide to create Wikipedia pages of their classmates and make creative posts about their deaths. That is it was harmless until what they write starts coming true.
The people that have wronged Cole soon starts dying in the gruesome ways described on their Wikipedia pages, and no matter how Cole edits the outcomes, the killer is unwilling to stop hunting down the victims. This book is definitely very descriptive and there are some pretty disgusting parts but I wouldn't really say it's scary overall. There are certainly some very creative ways that the killer goes about murdering the victims, so if you can't stomach gorey thrillers, then this is not the book for you.
I found the concept of this story quite unique and it was executed well. I spent a long time trying to guess who the killer was and it wasn't predictable until 3/4 into the book. Then it suddenly changed drastically and became really obvious … not really sure how I feel about that but it worked well enough.
I can't say I liked any of the characters but I'm pretty sure that was intended. Cole was a good protagonist and it was interesting to follow him as his guilt in being linked to these murders slowly messed with his own psyche.
The thing that annoyed me the most with this book was the ending. While I did manage to predict the killer, I found them to be over-the-top weird. It did add a bit of a thrill factor to it, but it just didn't seem plausible. I know it's intended to be an over-the-top kind of book so I guess I can't fault it too much for doing exactly that.
Overall it was just not my kind of book. I enjoyed it enough but I probably wouldn't read it again.
Thank you to Scholastic Australia for providing a copy in exchange for an honest review. 
The following two tabs change content below.
Joy is the head honcho of
Thoughts By J
. Her favourite genres are fantasy, sci-fi, mysteries, and the occasional romance that makes her heart beat faster. You'll find she's quite sporadic with her blog posts, but will definitely find the time to reply to all your comments, and visit your blogs...it's just a matter of when.