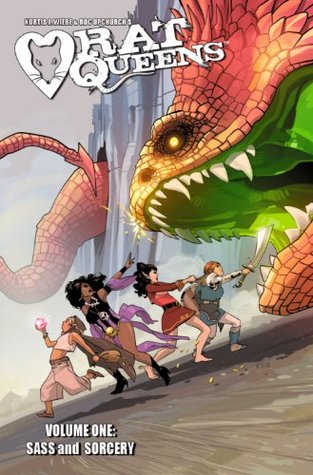 Title: Rat Queens Vol 1: Sass & Sorcery
Author: Kurtis J. Wiebe
Illustrator: Roc Upchurch
Rating: ★ ★ ★ ★ ☆
Genre: Fantasy, Graphic Novel
Format Read: Paperback, 128 pages
Publication Date: 8th April 2014 by Image Comics
Synopsis:  "Who are the Rat Queens?

A pack of booze-guzzling, death-dealing battle maidens-for-hire, and they're in the business of killing all god's creatures for profit.

It's also a darkly comedic sass-and-sorcery series starring Hannah the Rockabilly Elven Mage, Violet the Hipster Dwarven Fighter, Dee the Atheist Human Cleric and Betty the Hippy Smidgen Thief. This modern spin on an old school genre is a violent monster-killing epic that is like Buffy meets Tank Girl in a Lord of the Rings world on crack!"
[divider]
Warning: This novel contains graphic and adult content. 
I've been really into graphic novels lately, and Rat Queens caught my eye because I've been in a huge fantasy mood. I kinda of went into the graphic novel blind, not having read any reviews for it, and only skimming the synopsis at best.
And oh boy, what a great choice that was.
I mean, you don't have to go into the series blind to enjoy it, but I felt like it made the experience a whole lot more interesting for me. I was surprised from the get-go with the characters, the world, and how bloody the story turned out to be. Not sure if you've noticed from my reviews of the Locke & Key series, but I enjoy my graphic novels when it's nice and gruesome. Heh.
The Rat Queens is a group comprised of four very different girls that seek out excitement and money through fights. There's Hannah, the rockabilly Elven Mage; Violet, the runaway Dwarf fighter; Dee, the atheist human cleric; and Betty, the hippy smidgeon thief. They're crazy party animals, take drugs, and live a life that's outrageously dangerous.
Each girl is very different to each other, but what's great is that despite all their differences, when it comes to a fight, they've got each other's back. In Sass & Sorcery, we're introduced to the Rat Queens and bit by bit their backstories are slowly revealed to us. And this is all intertwined with the main story where the girls and other groups of fighters/assassins/trouble-makers are being hunted down by a group that's been hired to take them out. I must say, it's impressive how fleshed out this world and its characters are when the entire graphic novel is only 128 pages.
Unfortunately, volume 1 does leave you on a cliffhanger, but what's great is that volume 2 is out already so you won't have to wait ages to find out what happened!
* * *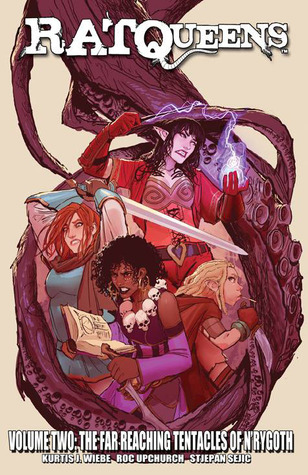 Title: Rat Queens Vol 2: The far reaching tentacles of N'rygoth
Author: Kurtis J. Wiebe
Illustrator/Letterer: Roc Upchurch, Stjepan Sejić, Ed Brisson
Rating: ★ ★ ★ ★ ☆
Genre: Fantasy, Graphic Novel
Format Read: Paperback, 128 pages
Publication Date: 6th May 2015 by Image Comics
Synopsis:  "This booze-soaked second volume of RAT QUEENS reveals a growing menace within the very walls of Palisade. And while Dee may have run from her past, the bloated, blood-feasting sky god N'rygoth never really lets his children stray too far."
[divider]
Warning: This novel contains graphic and adult content. 
Thank god I had the second volume ready when I finished the first, because I have no idea how I would have been able to wait a whole year and more to find out how the Rat Queens fared as the horrible and scary sky god N'rygoth descended upon them and Palisade, the city they're protecting from utter destruction.
N'rygoth is absolutely terrifying — it's like a sky octopus with menacing eyes and the ability to control people. Released by a merchant who was wronged by Hannah's on-again, off-again lover, N'rygoth starts attacking Palisade with no happy ending in sight.
In this volume, we learn more about the Rat Queens, especially Dee, who had run away from her people, a group whom can be considered a cult of sorts. They actually worship N'rygoth, and Dee is surprised that he actually exists. Unable to accept N'rygoth previously, Dee left her husband to go on a journey to find herself, and that was when she joined the Rat Queens.
The story in the second volume actually jumps back and forth in time as the Rat Queens get brainwashed by N'rygoth. What some of them experience are flashbacks to the point in their past where they all leave their respective clans/families to find themselves. This actually works very well because it flows well, and it doesn't seem like their backstories are pushed onto the reader, but rather revealed. I guess it can be considered a pretty cliche plot device, but I didn't mind it.
As the story progressed, the Rat Queens truly grows on you. They are so sassy, so strong and so dominant in their own rights. They don't need a man to rescue them, but they're also not afraid to ask for help when it's needed. I had such a great time learning about their pasts, and how it has led them to the way they are, and shaped the way they make decisions and fight against evil.
This series is not for everyone, but for those that like fantasy graphic novels with strong female leads, then it's definitely worth giving this series a shot.
Thank you to Image Comics on Netgalley for providing a copy in exchange for an honest review. 
The following two tabs change content below.
Joy is the head honcho of
Thoughts By J
. Her favourite genres are fantasy, sci-fi, mysteries, and the occasional romance that makes her heart beat faster. You'll find she's quite sporadic with her blog posts, but will definitely find the time to reply to all your comments, and visit your blogs...it's just a matter of when.