What we got up to in January
Joy
January 2015 has been a good month. I spent the first week in New Zealand exploring around the south island, and I learnt how to drive in the country! Yes, that is a huge achievement for this city girl okay? Don't judge me! I trekked to a waterfall, kayaked, climbed a small mountain to look at glaciers and other New Zealandy stuff like drive through mountains and pretend I was in Middle Earth. I also did all the touristy stuff in Queenstown like jetboat through a narrow river, drop off a 200m ledge for the Canyon Swing and lined up for the world famous Ferg burgers, which were so worth it!!
January has also been a slow month for me. I'm still waiting on a start time for work, which gives me an extended holiday at the moment. I'm getting so restless but I'm trying to enjoy my time off as much as possible before I turn into a slave to work for the next 50 or so years. I hope you all had a lovely start to the year! xx
Alana
My January was definitely not as exciting as Joy's! I've been slaving away at my job.. one month in! I'm kinda exhausted! Working, sleeping and 21st's is about all I've been getting up to. Oh and reading! When I can get time to read on the train 😛
Book Haul
Joy
I've place myself on a book buying ban this month! I've been really good and haven't even touched a book store so I'm basically trying to work through all my TBRs before rewarding myself with new books. Let's see how long it can last shall we?
Love Bomb by Jenny McLachlan – Thank you Bloomsbury! I really enjoyed the first book to the series.
Yes Please by Amy Poehler – Thank you to my awesome coblogger, Alana, for this! I've started reading it and it's amazing so far.
Red Queen by Victoria Aveyard – Thank you for the finished copy Hachette! I really enjoyed it so watch out for my review and a potential giveaway of my ARC copy.
Avery by Charlotte McConaghy – Thank you Random House! I'm participating in the blog tour so watch out for that come end of Feb!
The Mime Order by Samantha Shannon – Thank you Bloomsbury! I'm about to start this one, so nervous for Paige eep!
Technically received this in February but I have to show you the pretty!!! THANK YOU BLOOMSBURY, I guess I won't be getting any sleep tonight hehe.
Alana
I only got one book this month! I need to step up my game! *hangs head in shame*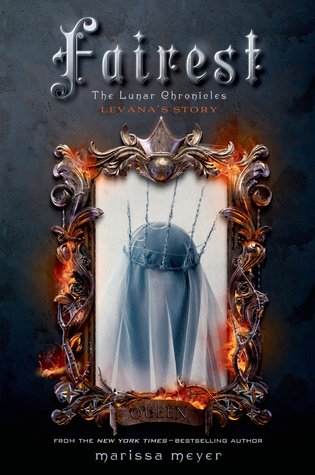 Fairest by Marissa Meyer – Published by Pan Macmillan Australia
Bookish News 
Don't miss out on the February newsletter from the Aussie YA Bloggers & Readers group on Goodreads for a round up for bookish news, new releases, events and blogger spotlights.  Make sure you subscribe to have it delivered straight to your inbox at the beginning of each month!
Aussie YA Bloggers & Readers have also started a Facebook group to fangirl over books. Join us for book chats here.
Calling all Harry Potter fans! Harry Potter night starts on 5th February, sign up and join in on the fun here.
Bloggish News
Reviews
Posts you may have missed