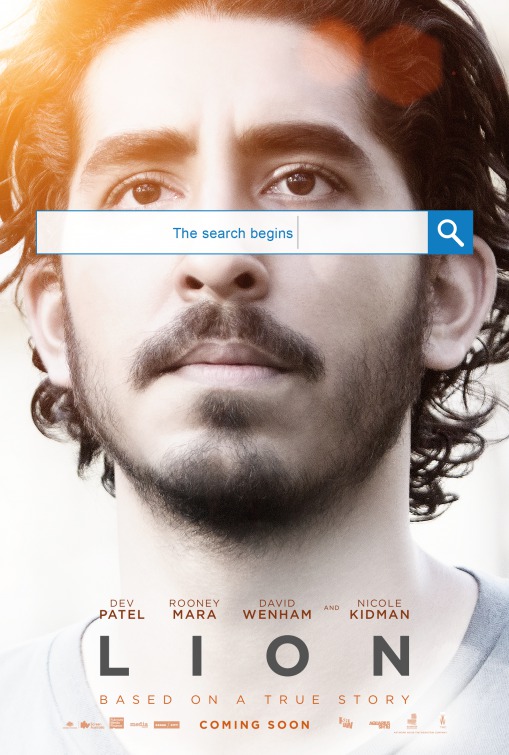 ♥ ♥ ♥ ♥ ♥
With HUGE thanks to Show Film First Australia, I got the chance to watch LION, the beautiful and touching story of Saroo Brierley and his journey towards finding his lost family.
The movie is based on the non-fiction book A Long Way Home, which documents Saroo's life as a young boy, losing his way home, and finding a new life in Tasmania, Australia. With the knowledge there's a past waiting for him, Saroo sets out to retrace his steps from that faithful night, when he accidentally got on a train that took him thousands of kilometres away from his family.
I didn't go into this movie blind (I did watch the trailer!), but I went in with very limited knowledge about Saroo Brierley's truly moving story. I do recommend this approach and was rewarded with a heart-warming story that made me sob like a baby. The greatest part was not knowing what would happen next — would Saroo be able to find which station he jumped on the train that faithful night? Will he ever tell his adopted parents that his heart yearns to seek his missing family? Will he find his mother, brother and sister?
All great questions that are answered in the movie, but I think going in not knowing what the outcome was added that extra depth and investment in Saroo's journey from my end.
Dev Patel (you may know him as the guy from Who Wants to be a Millionaire), did an amazing job at playing the old Saroo — and can I just say how absolutely convincing his Aussie accent in? I was floored! My friend told me that Dev didn't take on any other roles for 8 months, so he could practice and maintain the accent. Well freaking done, because he knocked it out of the ball park. I think he does a better Aussie accent than me!
While Dev was amazing, the CLEAR standout was the child actor that played little Saroo, Sunny Pawar. O.M.G, this kid can act. He was moving, funny, adorable and I just wanted to give him so many hugs for everything that he went through. It just stuns me the life that real Saroo had, and the way his own life was up-ended because he was looking for his brother and stepped on the wrong train. SO MANY TEARS.
I just can't express in enough words how much this movie moved me. It was a true show of perseverance, of love, family and the discovery of a past that shapes you into the person you become in your future.
LION is absolutely a must watch. Do yourself a favour and book your tickets now. Oh, and bring tissues.
LION is out in cinemas across Australia on Thursday, 19 January 2017.