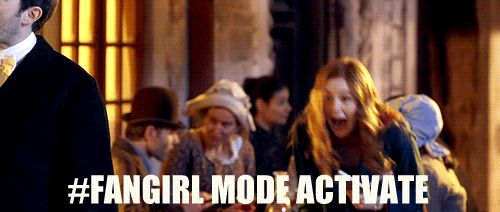 Oh my lord, I am currently in a state of hungover where alcohol was never even involved. That is amazing in itself, but whereas normal hangovers leave you with an awful headache, book hangovers leave you questioning the point of life.
#deep
Yesterday night I finished reading A Court of Thorns and Roses by Sarah J. Maas. It doesn't come out until May this year, but as soon as I opened the package from the lovely Bloomsbury Australia team I knew I would be dropping all responsibilities and reading the book immediately. I love Sarah J. Maas, I love her worlds and I love her storytelling.
ACOTAR did not disappoint and I will be reviewing it a bit closer to its release date. However, this book accomplished what no other book has done in a long time…it's left me in this perpetual state of hungover and I'm not really sure how to get out of it. It was so freaking good!!
So how do I know I'm in a book hangover? 
I've been staring at my shelves for the past half hour but I have no desire to pick up my next read.
There's a looming book tour deadline coming up but I can't seem to find it in me to start reading the book. Deadlines! I am a deadline person. Fear not, I'll eventually get to it but right now, I'm still reeling from the brilliance of ACOTAR.
I can't stop thinking about the characters and the world and feel like a reread is necessary. I haven't reread a book in years. YEARS. (Okay I lied, I reread Harry Potter but it was at least 1.5 years ago)
I would rather sit in front of my computer staring at the screen than pick up my next book.
I'm procrastinating by writing this post.
I do hope this hungover state does not last long, but at the same time I would not give it up for the world because a book hangover is the best kind of hangover. It just highlights how much a book has touched me, and I'm so thankful to have read a book like ACOTAR. 
I guess I'll just have to force myself to read again soon but right now I'm just going to savour the moment. I rarely ever give books 5-stars because I save them for these moments where I know it's truly a 5 star read and truly a book that I will remember years down the line.
Have you ever experienced a book hangover? How did you get out of it?