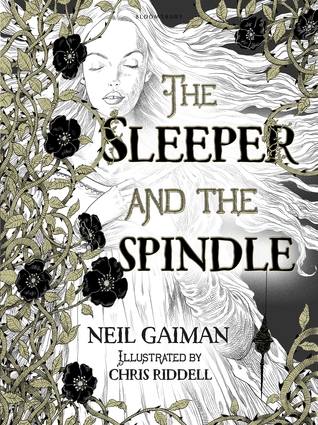 Title: The Sleeper and the Spindle
Author: Neil Gaiman
Illustrator: Chris Riddell
Rating: ★ ★ ★ ★ ☆
Genre: Graphic book, Fantasy, Fairytale Retelling
Format Read: Hardback, 68 pages
Publication Date: 23rd October 2014 by Bloomsbury Australia
Synopsis: "A thrillingly reimagined fairy tale from the truly magical combination of author Neil Gaiman and illustrator Chris Riddell – weaving together a sort-of Snow White and an almost Sleeping Beauty with a thread of dark magic, which will hold readers spellbound from start to finish.

On the eve of her wedding, a young queen sets out to rescue a princess from an enchantment. She casts aside her fine wedding clothes, takes her chain mail and her sword and follows her brave dwarf retainers into the tunnels under the mountain towards the sleeping kingdom. This queen will decide her own future – and the princess who needs rescuing is not quite what she seems. Twisting together the familiar and the new, this perfectly delicious, captivating and darkly funny tale shows its creators at the peak of their talents.

Lavishly produced, packed with glorious Chris Riddell illustrations enhanced with metallic ink, this is a spectacular and magical gift."
[divider]
This is my first foray into Gaiman's stories and I must say that I was extremely impressed with his retelling of Sleeping Beauty and Snow White. I think it helped that Riddell's art is just stunningly gorgeous and added an element of beauty to the overall story.
On the Eve of her wedding, a reimagined Snow White is warned by some mountain dwarfs of an enchanted kingdom that has been cursed to sleep for decades. Brave and independent, the queen sets off to rescue the sleeping princess who is rumoured to be the resolution to the curse. However, the kingdom and its sleeping princess is not as it seems and lifting the curse may not be a great idea after all.
This short story is designed to enchant the younger audience, but I'm not afraid to say that I was thoroughly enchanted myself. I loved the twist at the end and the overarching theme of women and their ability to be brave. This story highlights that girls can also break curses without the help of a prince. It's such a great message to send to our new generation of children who will grow up with this book.
The story was fast-paced and the illustrations accompanying the words brought the book to life. Every part of this book is just so well thought out and designed. So impressed!
I highly recommend this book to all ages. Older readers will get a kick from its themes and younger readers will find a treat in this beautiful retelling!
---
Title: Hansel and Gretel
Author: Neil Gaiman
Illustrator: Lorenzo Mattotti
Rating: ★ ★ 1/2
Genre: Graphic book, Fantasy, Fairytale
Format Read: Hardback, 56 pages
Publication Date: 11th December 2014 by Bloomsbury Australia
Synopsis: "Best-selling author Neil Gaiman and fine artist Lorenzo Mattotti join forces to create Hansel & Gretel, a stunning book that's at once as familiar as a dream and as evocative as a nightmare. Mattotti's sweeping ink illustrations capture the terror and longing found in the classic Brothers Grimm fairy tale. Gaiman crafts an original text filled with his signature wit and pathos that is sure to become a favorite of readers everywhere, young and old."
[divider]
I read this straight after The Sleeper and the Spindle and unfortunately it just did not live up to the first. I expected a retelling or at the very least, a difference between this and the original Brother's Grimm story. I am disappointed that I could not differentiate a difference between Gaiman's work and the original.
If you have never read or heard of Hansel & Gretel, then I'm sure this book will be a great introduction to their story. The best thing about the book is how dark its themes are and Mattotti did a brilliant job in capturing the themes of abandonment. Each page is filled with dark and creepy images as we follow Hansel and Gretel deeper into the forest, having been abandoned by their parents.
These children are as smart as they come (for a fairytale) and I'm glad that Gaiman retained their logical minds in his version of the story.
Unfortunately, this book did not add anything to the fairy tale that was not already there and for that I am quite disappointed. For older readers, go in with the knowledge that the book is not intended to be a fairy tale retelling and you will not be as disappointed as I was. It is still a great addition to the fairy tale collection and I know for sure that younger readers will find the story of Hansel & Gretel a delight to read.
The following two tabs change content below.
Joy is the head honcho of
Thoughts By J
. Her favourite genres are fantasy, sci-fi, mysteries, and the occasional romance that makes her heart beat faster. You'll find she's quite sporadic with her blog posts, but will definitely find the time to reply to all your comments, and visit your blogs...it's just a matter of when.