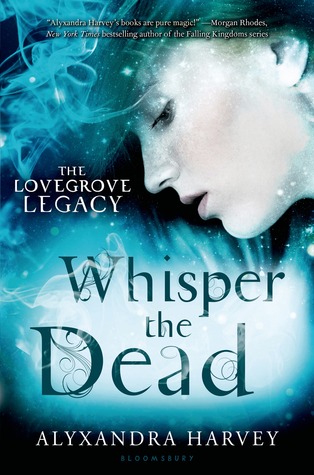 Title: Whisper the Dead (The Lovegrove Legacy #2)
Author: Alyxandra Harvey
Rating: ★ ★ ★ ★ ☆
Genre: Fantasy, Paranormal, Regency
Format Read: Paperback, 416 pages
Publication Date: 1 October 2014 by Bloomsbury Australia
Synopsis: "Gretchen is struggling with her newfound gift as a Whisperer; the constant buzzing in her ears from detecting spells is more frustrating than fun, especially when she is spending time with one of the Order of the Iron Nail's Keepers, the icy but strikingly handsome Tobias Lawless. While Gretchen tries to hide the truth from him, London fades from beautiful and bustling to deathly silent . . . Something evil is once again menacing Mayfair, and Gretchen and her cousins must use their powers to prevent a horrible sacrifice.

This second book in the Lovegrove Legacy trilogy is full of dark twists, spellbinding suspense and sweeping romance – perfect for fans of Cassandra Clare, Lauren Kate and Ruth Warburton." (Taken from Bloomsbury)
[divider]
This series continues to surprise me with how great it is. I went into the first book not really interested in reading any regency books, but it was so great that I'm now a huge fan! I found A Breath of Frost (The Lovegrove Legacy #1) to be a tad long, however while Whisper the Dead is of similar size, I didn't want it to end at all.
This series follows three cousins who've recently discovered they're witches from a very powerful line called the Lovegroves. In the first book Emma manages to bottle the evil Greymalkin sisters, a family of powerful warlocks that want to escape from the underworld and regain their power. In this wonderful sequel, we switch perspectives and focus on the kickass Gretchen who is beginning to discover her powers as a Whisperer. This power allows her to hear the whispers of past witches who guides her with spell casting and finding the right method to break curses. I love the progression in this book – Gretchen does not miraculously become a skilled Whisperer – it takes her almost the whole book to hone her skills. There are multiple times where she passes out from the exertion of 'Whispering' or we see her ears bleed because she's still learning and haven't found her way yet.
In Whisper the Dead, where only a few days have passed since the bottling of the evil sisters, someone begins terrorising the people of London once again. The Order of the Iron Nails, witch keepers of the city, sets Keepers tailing after the movement of the cousins believing them to be suspicious after the events of the first book. Gretchen gets tailed by the handsome yet unapproachable Tobias who is hiding a secret of his own. I absolutely ADORED the interaction and slow burning romance between Gretchen and Tobias. Gretchen is a loud-spoken girl (very much unheard of in regency London), while Tobias is a stickler for the rules. They're complete opposites and butt heads more than once throughout the book, reluctantly coming together when a curse is placed on the witching community of Mayfair.
While long, the book is fast paced and unputdownable. Harvey continues to create a vivid and fascinating world that sucks the reader right into the midst of the action. She takes the cliched idea of witches, turns it upside down and then adds her own interpretation to it. I must say I prefer her version quite a lot, aside from the evil Greymalkins of course. I could do without them.
This novel does change perspectives often, so if you loved Emma in the first book, have no fear because her story does still continue. While the focus this time round is on Gretchen (oh how I love thee), we still get to follow many of the old characters as well as new ones. One of the reasons I love this series are the Lovegrove cousins. They're all such strong and independent characters who can stand on their own, but when they come together it's like another league on its own. Their love and protectiveness of each other is such a wonder aspect to the story – I can almost do without the romantic interests. But please keep them in because they're all so swoon-worthy. Cormac proved how awesome he was in the first book, and Tobias soon grew on me even with how proper he was. He was just the right balance to Gretchen's trouble-making tendencies and I seriously ship them so hard.
My biggest issue is basically the ending – not so much an issue but a "HOW CAN YOU DO THIS TO ME ALYXANDRA HARVEY" rant. After everything that's happened, we are left on a cliffhanger that almost killed me a little. Okay, a lot. It felt like we were cut off right when the good part was happening and now I have to wait almost a year to get my next fix of the series. WHYYY?!
Needless to say, highly recommended if you're a fan of paranormal fantasy stories with kickass and strong female characters. So good guys, so good!
Thank you to Bloomsbury Australia for providing a copy in exchange for an honest review.
The following two tabs change content below.
Joy is the head honcho of
Thoughts By J
. Her favourite genres are fantasy, sci-fi, mysteries, and the occasional romance that makes her heart beat faster. You'll find she's quite sporadic with her blog posts, but will definitely find the time to reply to all your comments, and visit your blogs...it's just a matter of when.