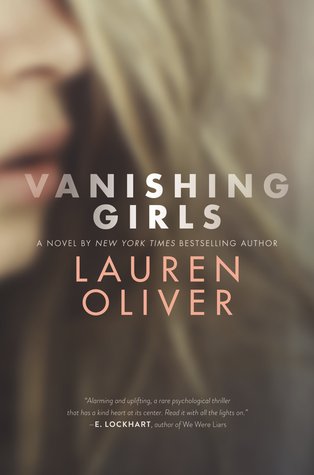 Title: Vanishing Girls
Author: Lauren Oliver
Rating: ★ ★ ★ 1/2
Genre: Young Adult, Contemporary, Mystery
Format Read: Paperback, 336 pages
Publication Date: 10 March 2015 by Hachette Australia
Synopsis: "Dara and Nicola used to be inseparable, but that was before – before Dara kissed Parker, before Nicola lost him as her best friend, before the accident that left Dara's beautiful face scarred. Now the two sisters, who used to be so close, aren't speaking. In an instant, Nick lost everything and is determined to use the summer to get it all back.

But Dara has other plans. When she vanishes on her birthday, Nicola thinks Dara is just playing around. But another girl has vanished, too – nine-year-old Elizabeth Snow – and as Nicola pursues her sister, she becomes increasingly convinced that the two disappearances may be linked."
[divider]
This was my first Lauren Oliver book, and I must say I had a pretty good time with it! The novel follows Dara and Nick, two sisters who used to be inseparable until Dara hooked up with Nick's best friend. One stormy night, the sisters are heading home when they get into a huge argument and crashes their car into a brick wall. Dara is left with a scarred face and hospitalised while Nick is sent off to live with her dad and new step mum.
When Nick returns, Dara avoids her and refuses to cross paths. Nick tries to fix their broken relationship, but what happens when Dara doesn't want to fix it at all?
I'm not sure how but I always manage to call the ending within the first few chapters of the book. I didn't think it would come true as I read on, but in the end, the twist was exactly as I'd predicted it. Am I getting too good, or does nothing surprise me anymore these days?
I'm thinking the latter.
Nick and Dara are both believable characters where a single tragedy has flipped their lives upside down. Coming from a small town, the pace of the book reflected the sleepiness of such a place. It does pick up pace as a young girl goes missing though, and we get pulled into Dara's life as Nick investigates the connection between Dara and the missing kid.
The book is told from both Nick and Dara's perspectives, so we get a good look into both their heads. Nick is continuously punishing herself for the accident, blaming herself for what happened. Dara's personality does a 180 after the accident as she spends her time hiding from her friends. Both girls are very different in personality, but we do get a glimpse into their connection with each other and how the accident has affected this relationship.
The plot moves along slowly, but it picks up momentum halfway through the book as Nick becomes more involved in trying to reconnect with Dara and save her from more trouble. It was interesting to see Nick come to terms with what happened the night of the accident, and how she manages to find a way to forgive herself.
There's a little bit of romance, but nothing too overwhelming. Parker was very much like the boy-next-door, and he was nice enough. Luckily, there was not too much focus on the romance.
This book is essentially about family, forgiveness and moving on. Lauren really captures the feeling of loss through her characters as their actions are truly realistic. Nick's guilt can be truly felt by the reader, and you can't help but feel protective of her as well.
Vanishing Girls was a very interesting read, and the ending was very heart-breaking. Lauren's writing is beautiful and captures all her themes very well. I will definitely be checking out more of her books from now on!
Thank you to Hachette Australia for providing a copy in exchange for an honest review.
The following two tabs change content below.
Joy is the head honcho of
Thoughts By J
. Her favourite genres are fantasy, sci-fi, mysteries, and the occasional romance that makes her heart beat faster. You'll find she's quite sporadic with her blog posts, but will definitely find the time to reply to all your comments, and visit your blogs...it's just a matter of when.