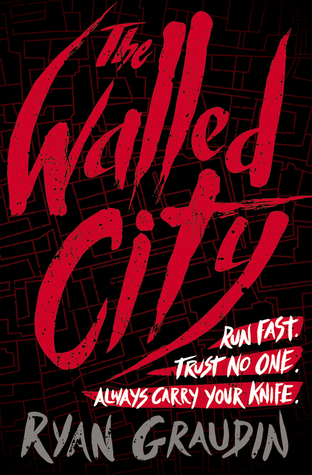 Title: The Walled City
Author: Ryan Graudin
Rating: ★ ★ ★ ☆ ☆
Genre: Historical Fiction, Fantasy
Format Read: Paperback, 320 pages
Publication Date:  11th November 2014 by Indigo (Hachette Australia)
Synopsis: "There are three rules in the Walled City: Run fast. Trust no one. Always carry your knife. Right now, my life depends completely on the first. Run, run, run…

Disguised as a boy, Jin Ling searches for her missing sister, Mei Yee, who was sold into the brothels of the Walled City. It's a cut-throat world of gangs, drug-dealers and warlords and every day is a struggle to survive. Jin Ling relies on her speed and cunning but how long will her luck hold? When a mysterious boy, Dai, requests her help with a dangerous mission Jin Ling's inclined to say no – this is a world where no one can be trusted – but the mission offers her a vital chance to see inside the brothel where her sister may be being held.

Jin Ling and Dai join forces, but will either of them survive the mission? Is Mei Yee still alive? And how will any of them ever escape the stifling city walls?

With a fantasy setting inspired by Kowloon Walled City, Hong Kong, Ryan's novel has a rich authenticity and an intense atmosphere, and its pace will enthral the reader from the very first page."
[divider]
The Walled City was one of my most anticipated reads of 2014. I (obviously) wasn't able to get to it in 2014, so I made it my priority read for January. You have no idea how excited I was to hear that we have a young-adult book set in HONG KONG. When I found out it was set in the infamous Kowloon City, which I had no idea about, I asked my parents about it. Oddly enough they've never heard of the place either, so I turned to my trusty internet instead. I'm not going to bombard you with history, but rather let these images speak for itself.
Can you even imagine living in such a densely packed place, because that's where our three main characters are situated. While Graudin has given the city as well as Hong Kong new names (Hak Nam and Seng Ngoi respectively), the places remain the same. The book follows Jin Ling, Mei Yee and Dai who are all trying to survive within this city run by a drug lord called Longwai. In a place without government control, Longwai has full reign of a city where even the police will not step into. He along with his Brotherhood of henchmen smuggles drugs into Hong Kong and runs a brothel where Mei Yee resides, having been sold into prostitution by her father.
Jin Ling is searching for her sister and does everything she can to survive within the city. She pretends to be a boy because girls are taken and sold into prostitution if they have no family within Hak Nam. Dai on the other hand is searching for a way into Longwai's brothel to retrieve a ledger that will ensure his freedom back in Seng Ngoi, and he's only got 18 days left to find it. The book weaves the stories of all three characters together pretty early on, and while it was quite predictable, it makes sense as well.
I really loved the atmosphere of the book, and each of the characters' survival instincts are pretty spot on. Jin Ling steals from shops as well as from small gangs in order to survive. While escaping from her latest steal, she's noticed by Dai who proposes an offer that would provide her with money as well as a way into Longwai's brothel to search for her sister. Dai and Jin become Longwai's drug runners, where Jin delivers drugs while Dai waits as collateral damage. This works well for him as he manages to gain access into the brothel. Mei Yee on the other hand works in Longwai's brothel where a man named Osamu has paid good money to have her all to himself. While Osamu offers her a way out from Longwai's prison into a more luxurious one, Mei Yee hesitates to accept when a mysterious boy appears at her window and offers her another way out.
The story is brilliantly set out, but I must admit that it moved at a snail's pace. Although the 18 days were slowly disappearing, I never got the sense of urgency from Dai that I was expecting, especially since he's gambling away his freedom and life. A lot of the book is spent explaining the backstory of the characters and what is motivating them to their current predicament. While it was necessary, I felt like there was too much focus on it, and unfortunately that stifled the pacing quite a bit. Another thing I didn't like was the romance. Mei Yee falls in love with the mystery boy much too quickly but I can understand he's like a beacon of hope for her. Dai on the other hand had no excuse and the insta-romance made me roll my eyes quite a bit.
Aside from the slow pacing and the romance, I did enjoy this book overall. I really loved the unique setting of the story (more Asian settings please authors), and all three characters were beautifully drawn out. Ryan Graudin did a great job in recreating such an integral part of Hong Kong history and introducing it to a new generation of readers.
Thank you to Hachette Australia for providing a copy in exchange for an honest review.
The following two tabs change content below.
Joy is the head honcho of
Thoughts By J
. Her favourite genres are fantasy, sci-fi, mysteries, and the occasional romance that makes her heart beat faster. You'll find she's quite sporadic with her blog posts, but will definitely find the time to reply to all your comments, and visit your blogs...it's just a matter of when.