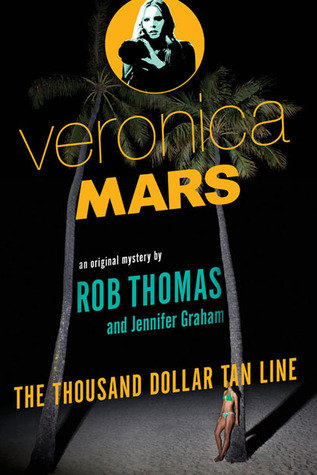 Title: Veronica Mars: The Thousand Dollar Tan Line
Author: Rob Thomas and Jennifer Graham
Rating: ★ ★ ★ ★ ☆
Genre: Mystery, Contemporary, Young Adult, Crime
Format Read: Paperback, 336 pages
Publication Date:  1 November 2014 by Allen and Unwin
Goodreads Synopsis: "From Rob Thomas, the creator of groundbreaking television series and movie Veronica Mars, comes the first book in a thrilling new mystery series. 

Ten years after graduating from high school in Neptune, California, Veronica Mars is back in the land of sun, sand, crime, and corruption. She's traded in her law degree for her old private investigating license, struggling to keep Mars Investigations afloat on the scant cash earned by catching cheating spouses until she can score her first big case.

Now it's spring break, and college students descend on Neptune, transforming the beaches and boardwalks into a frenzied, week-long rave. When a girl disappears from a party, Veronica is called in to investigate. But this is not a simple missing person's case. The house the girl vanished from belongs to a man with serious criminal ties, and soon Veronica is plunged into a dangerous underworld of drugs and organized crime. And when a major break in the investigation has a shocking connection to Veronica's past, the case hits closer to home than she ever imagined."
[divider]
When Joy told me she had gotten this title, I admit to squealing like a fangirl. I LOVED the Veronica Mars television series and I almost died of pure joy  when I found out they were making a movie of it…FINALLY.
And then I found out there was a book series! It really warms this fangirl's little heart to see such an amazing cult show do so well, especially quite a few years after its cancellation.
Much to my relief, the book did NOT disappoint.
It picks up very soon after where the movie left off… however it's not necessary to have seen the movie to read it as it acts very well as a stand-alone book. Although it does have some spoilers. So if you have all intentions of watching the movie, I'd definitely suggest doing so before reading the book.
For those of you who haven't seen the movie or show (for shame! remedy that immediately!) here's the 4-1-1. The novel follows a now grown up Veronica Mars – blonde private detective extraordinaire, who has turned down a very fancy law job to help run her dad's private detective agency in the Californian providence of Neptune. When a young girl goes missing in Neptune while on Spring Break, Veronica is tasked with solving the mystery before it's too late. Battling corrupt law enforcement, Mexican cartels and an important person from her past who appears unexpectedly… Veronica will go to great lengths in the search for justice. But will she put herself in danger in the process?
Honestly, The Thousand Dollar Tan Line was such a wonderful read. It was addictive, well written and SO much like the television series that I instantly fell in love with it.
All the familiar characters (minus a few) were present and blended seamlessly in the overall plot. I did find that perhaps some descriptions of characters were lacking (the author accidentally assumed in some instances that the reader HAD seen it before), nevertheless their overall presence within the novel was useful in propelling the story-line.
I also appreciated the unpredictability of the twist/ending. As someone who regularly reads and watches crime/mystery media I'm generally used to being able to predict the bad guy almost straight away. The Thousand Dollar Tan Line had me guessing right up till the very end… which I very much enjoyed given the rarity of a truly well done mystery nowadays.
While book Veronica was snarky, witty and sarcastic… I felt the snark was a little watered down in comparison to both the movie and television show. Personally, I think this is just because Kristen Bell does such a fantastic job in portraying her character on the small (and big) screen, that it's just impossible to translate the right level of sarcasm and snark in book form.
I was disappointed that a certain character (who shall remain nameless) was mostly absent from the story… although I feel it was probably the right decision. Particularly if there's a chance of a second movie in the near future.
If you're a huge fan of crime and mystery novels, Nancy Drew or just generally badass female characters… this is the novel for you. It's the perfect combination of witty banter and a fantastic storyline that is unpredictable, addictive and downright refreshing.
I'm incredibly glad I chose to read this book and I'm eagerly awaiting the second book Kiss and Tell which I think is out pretty soon. AND of course the second movie (it will happen if I keep telling myself it will).
Thanks to Allen and Unwin for providing a physical copy for an honest review. 
The following two tabs change content below.
Alana
Alana is second in command of ThoughtsbyJ. A 22-year old book lover with an incurable case of wanderlust, she often struggles to find time to blog and comment (but she gets there eventually). She doesn't have a favourite genre, as long as she enjoys the book it's a win!