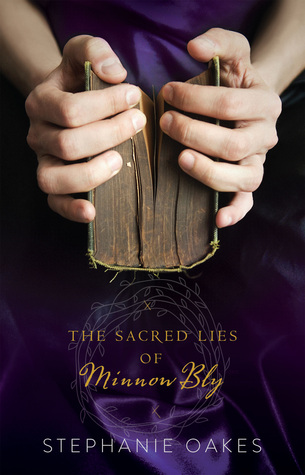 Title: The Sacred Lies of Minnow Bly
Author: Stephanie Oaks
Rating: ★ ★ ★ 1/2
Genre: Contemporary, Crime, Mystery
Format Read: ARC, 394 pages
Publication Date: 2nd June 2015 by HarperCollins Australia
Synopsis: "The Kevinian cult has taken everything from seventeen-year-old Minnow: twelve years of her life, her family, and her ability to trust.

And when Minnow rebelled, they took away her hands, too.

Now the Kevinian Prophet has been murdered and the camp set aflame and it's clear Minnow knows something. But she's not talking. As she adjusts to a life behind bars in juvenile detention, Minnow struggles to make sense of all she has been taught to believe, particularly as she dwells on the events that led up to her incarceration. But when an FBI detective approaches her about making a deal, Minnow sees she can have the freedom she always dreamed of; if she is willing to part with the terrible secrets of her past.

Powerful and compelling. this remarkable and brave debut novel reveals the terrible dangers of blind faith. And the importance of having faith in yourself."
[divider]
The Sacred Lies of Minnow Bly is understandably not a book for everyone. It deals with some pretty gruesome themes that will make you gag, and if you're like me, make you PISSED OFF. 
The book follows Minnow Bly, a young girl who's heading to jail for almost killing a boy — but as the story progresses, we find out how exactly Minnow got into that position in the first place, especially for a girl that has no hands.
Minnow comes from a religious cult called The Kevinians, one that has foregone everything the city has to offer and set up their own place in the woods. The leader of the cult, Kevin, has convinced his followers that he is the Prophet of God, and changes the rules according to the messages that 'God' aka some man named Charlie, sends to him.
This book truly highlights how horrifying cults can be — we never really think about it in our day to day lives, but there are people out there that hope to segregate themselves from the rest of the world, just so they can play by their own rules. The Prophet, is no different. He encourages polygamy, and enjoys punishing those that disobey him, through cruel and hurtful means. He also encourages racism, and at one point … marriage to a child.
It's safe to say that a lot of the themes being brought forward in this book is quite disturbing, but in a fascinating manner. While it's fictitious, you cannot help but think about the cults that do currently exist without anyone noticing.
This book is a very interesting read, told through the perspective of its narrator, Minnow. Minnow is gone through some seriously traumatic experiences, but yet she remains strong. She regrets the actions that led her to jail, but not the ones that occurred while she was trying to escape from the cult. Despite all the odds being against her — and losing her hands for her disobedience — Minnow is one of the strongest characters that I've had the chance to meet in a long time. Her voice shines through, and is the best part of this book.
While I understand that everyone and their dog loves this book, I personally thought that something felt like it was missing overall. While the cult scenes were disturbing, I personally didn't think they were emphasised enough. This is a personal preference, as I don't get grossed out easily, and I had hoped that there would have been more scenes that highlighted how brutal these 'communities' could be.
There was also a lack of connection between Minnow and her siblings. We only really get to know one of them, and how being born into the cult had affected her life — but Minnow has over 10 siblings. They barely even got a mention.
Despite those minor nit-picky parts of mine, The Sacred Lies of Minnow Bly is a very powerful read. Its story is very unique, and highlights a part of the world that not enough people are aware of.  It's definitely worth a read if you're interested!
Thank you to HarperCollins for providing an ARC in exchange for an honest review. 
The following two tabs change content below.
Joy is the head honcho of
Thoughts By J
. Her favourite genres are fantasy, sci-fi, mysteries, and the occasional romance that makes her heart beat faster. You'll find she's quite sporadic with her blog posts, but will definitely find the time to reply to all your comments, and visit your blogs...it's just a matter of when.