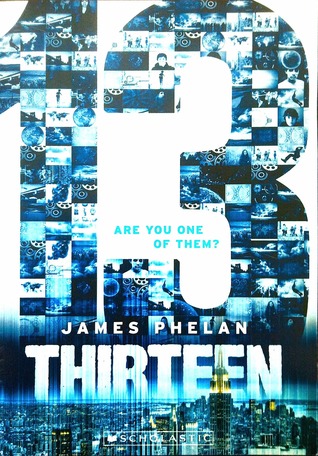 Title: The Last Thirteen Book 1: 13 (The Last Thirteen #1)
Author: James Phelan
Rating: ★ ★ ☆ ☆ ☆
Genre: Adventure, Middle Grade, Science-Fiction
Format Read: Paperback, 216 pages
Publication Date: 24th August 2013 by Scholastic Australia
Synopsis: "13 books. 13 nightmares. 1 destiny.

I click my fingers and everybody dies.

Sam wakes from his nightmare to discover the terrifying reality. It will come true.

Kidnapped from school and finding out his parents aren't who he thinks they are, Sam is suddenly running from danger at every turn. Nothing will ever be the same again.

With his life and identity shattered, Sam's salvation is tied to an ancient prophecy. He is in the final battle to save the world, up against an enemy plotting to destroy us all.

He alone can find the last thirteen." (Taken from Goodreads)
[divider]
The Last Thirteen is a 13 book serial released across the span of approximately 14 months. This first book in the series follows a teenage boy named Sam, who discovers his nightmares are actually a gift that allows him glimpses into a terrifying future reality. One day, he's sitting in class, and before you know it, a secret organisation breaks down the wall of his classroom and kidnaps him.
I've always been a vivid dreamer (I've once dreamed an entire episode of Modern Family…), and have always wondered whether my dreams are trying to tell me something. When I read the premise of this book, it immediately hooked me. It was intriguing to see how Sam's dreams/nightmares could play out in real life.
The book is quite fast paced, going from scene to scene without seemingly stopping. Unfortunately, this fast pace has affected much of the character development in the book.
Sam is your typical 'hero', who takes jujitsu classes prior to being kidnapped and then suddenly rescued. He is taken to a secret Academy for people like himself, who has dreams/nightmares of future events. The only difference is that Sam is special because he's dreamed about Scolaris, a bad guy, and because of this, he's prophesised to be one of the long awaited 'Last Thirteens' that is meant to defeat him. During Sam's kidnapping, he meets two others who he immediately befriends. They're told that their whole lives have been a scam, with their parents being fake and Agents from an organisation that want to exploit their gifts. Sam, as well as his friends, while promised to be special, are pretty stereotypical and gives off a Harry-Ron-Hermione vibe.
In terms of plot, I'm still a little confused with the whole premise overall. Sam and his friends are taken to The Academy, where they're meant to learn to control their dreams, but before they even attend a class, they rush off to solve the issue of Sam's latest nightmare. These Academy people who are apparently trained in combat, decide to bring three kids along with them, two of which know nothing about fighting. Or strategy. Or survival really. But of course, Sam is special so he has to go along, as he's the one that can manipulate his dream as it's played out in reality.
I think overall, the idea behind the overall story is interesting, but the book is let down by its execution. The serial release of the books every month may be the core issue here, as the author may be rushing to meet the deadlines. The story definitely needs some tighter editing, but I did enjoy the action scenes. I would classify this book more as middle grade than young adult, and I think younger boys would definitely enjoy this fast read.
The following two tabs change content below.
Joy is the head honcho of
Thoughts By J
. Her favourite genres are fantasy, sci-fi, mysteries, and the occasional romance that makes her heart beat faster. You'll find she's quite sporadic with her blog posts, but will definitely find the time to reply to all your comments, and visit your blogs...it's just a matter of when.