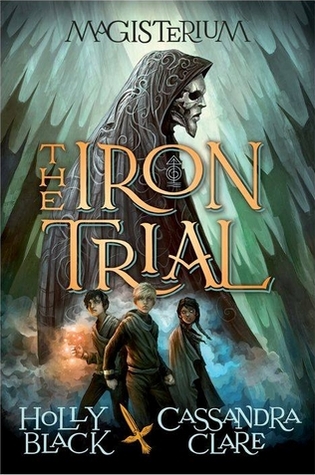 Title: The Iron Trial (Magisterium #1)
Author: Holly Black & Cassandra Clare
Rating: ★ ★ ☆ ☆ ☆
Genre: Fantasy, Middle Grade
Format Read: Paperback, 320 pages
Publication Date:  9th September 2014 by Doubledays Children (Random House Australia)
Synopsis: "Think you know magic?

Think again.

The Magisterium awaits . . .

Most people would do anything to get into the Magisterium and pass the Iron Trial.

Not Callum Hunt.

Call has been told his whole life that he should never trust a magician. And so he tries his best to do his worst – but fails at failing.

Now he must enter the Magisterium. It's a place that's both sensational and sinister. And Call realizes it has dark ties to his past and a twisty path to his future.

The Iron Trial is just the beginning. Call's biggest test is still to come…"  (Taken from Random House)
[divider]
Callum Hunt has been told all his life that magic is bad, and magicians are evil. When he comes of age to test for the Magisterium, he goes in with the intent to fail. But coming last doesn't have the effect he and his dad expected at all. Instead, Callum is picked as an apprentice to the highest master at the Magisterium to everyone else's surprise. Along with two other apprentices, Callum must now learn how to control his power, or have them bound.
The Iron Trial was pretty bland. Let's get the question everyone is asking out of the way shall we? No, it's nothing like Harry Potter, but I can see why everyone is making this comparison. In all honesty, it's due to the marketing of the book and of course the blurb, but the story itself is very different. Yes there are similarities if you want to grab at straws, but there is nothing that jumps out and screams plagiarism. At least for me.
But in saying that, the world of Magisterium was underdeveloped and made very little sense. Callum and other potential kids are made to take a test so the masters at the school can gauge their abilities. The tests were ridiculous and made no sense whatsoever, and worst of all, we get no explanation for them either. How does a written test show potential magic ability? And furthermore, not every student gets into the school. Only a select few are chosen as apprentices, so the school lets untrained kids with magical potential run around in the world afterwards, with a poor explanation that they will be looked after in case they can't control their magic. So why don't they just train them all, jeez. Especially when each master only takes on 2-3 apprentices a year. For a majority of the book Callum's master makes Callum, Aaron and Tamara sit in a room and sort sand … so what does he do with the rest of his time? Surely you can take on the extra students.
The school itself is set underground. I can't exactly explain what it looks like because I have no idea, but what I kept imagining was underground mole tunnels with water flowing through certain areas. Underdeveloped is probably the word I would choose to describe this whole book, a story that basically did a lot of telling and little to no showing.
I have no idea how the magic system works or any idea where the school is situated (apparently in our current world, but there's dangerous fantasy animals running around at night? And they have waged wars that no civilian has stumbled upon accidentally?). There are so many gaping holes and plot points that make me want to pull my hair out … like why the heck is there an evil monster thing being kept in the bottom levels of the school but the room is accessible to anyone, like students that stumble across it.
Another thing that was underdeveloped were the characters. Callum is the only one that has a fully developed back story, and his two fellow apprentices get a mini background. But everyone else were pretty much two-dimensional supporting characters that I just didn't care about. I can't even remember their names. But I did like Callum as a character. He was flawed, had a busted leg, but he was also determined to prove his worth. Having been bullied all his life, his defense mechanism has always resorted to mean comments and comebacks. I liked this about him, and his awareness of his behaviour. While he did want to make friends, there was always this insecurity at the back of his mind that people were not being genuine, and thus he kept pushing people away. As the book progresses, Callum grows as a character and his personality starts to change. He becomes more accepting of magic and even feels guilty for wanting to stay at the school while leaving his dad alone back home.
Plot wise, it was excruciating slow. We literally spend pages hearing Callum talk about counting sand, and complaining about counting sand. 3/4 of the book moves at this snail pace but then the final 1/4 is packed with action and things happening all at once. Unfortunately by that time I just wasn't invested enough in these characters to care what happened to them. I did like the sort-of twist at the end, but it was pretty obvious what the twist was just from the prologue.
As far as middle grade books go, this one was quite disappointing. If you want to check out how Black and Clare's writing styles fuse together, then do pick up this book. Unfortunately, this one was just not for me.
Thank you to Random House Australia for providing a copy in exchange for an honest review. 
The following two tabs change content below.
Joy is the head honcho of
Thoughts By J
. Her favourite genres are fantasy, sci-fi, mysteries, and the occasional romance that makes her heart beat faster. You'll find she's quite sporadic with her blog posts, but will definitely find the time to reply to all your comments, and visit your blogs...it's just a matter of when.