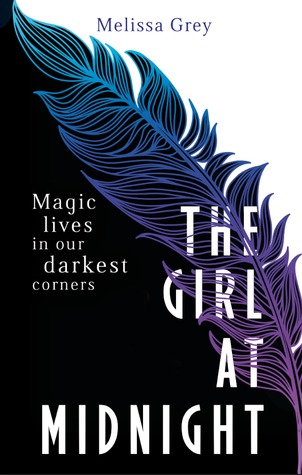 Title: The Girl at Midnight
Author: Melissa Grey
Rating: ★ ★ ★ ★ ☆
Genre: Young Adult, Fantasy, Romance
Format Read: Paperback, 361 pages
Publication Date: 28th April 2015 by Hachette Australia
Synopsis: "Beneath the streets of New York City live the Avicen, an ancient race of people with feathers for hair and magic running through their veins. Age-old enchantments keep them hidden from humans. All but one. Echo is a runaway pickpocket who survives by selling stolen treasures on the black market, and the Avicen are the only family she's ever known.

Echo is clever and daring, and at times she can be brash, but above all else she's fiercely loyal. So when a centuries-old war crests on the borders of her home, she decides it's time to act.

Legend has it that there is a way to end the conflict once and for all: find the Firebird, a mythical entity believed to possess power the likes of which the world has never seen. It will be no easy task, but if life as a thief has taught Echo anything, it's how to hunt down what she wants . . . and how to take it.

But some jobs aren't as straightforward as they seem. And this one might just set the world on fire."(Taken from Goodreads)
[divider]
Having heard good things about this novel from other bloggers, I thought I'd give this one a go… and what a read!
The Girl at Midnight is a contemporary meets fantasy novel which focuses on Echo, the clever and snarky heroine who has a knack for thievery. Having been adopted by a nest of feathered Avicens when she was a young child, she lives in the shadow of a world in which she doesn't quite fit in. The war between the Avicen's and their dragon-scaled rivals, Drakharins, has reached breaking point, with both sides desperately hunting for the legendary 'Firebird' that has the power to win the war. As Echo unwittingly joins the hunt for the Firebird, she's joined by an unexpected ally – the leader of the Drakharins. Only problem is, she doesn't know who he really is and when sparks start to fly, Echo finds herself in some serious trouble.
I LOVED this concept. Grey gets major points for an unbelievably unique reading experience that was incredibly well written. The characters were exciting and layered with both perspectives of Echo and Caius blending seamlessly to create a well-rounded story line.
Echo was a strong character – both in writing and in personality – but I also appreciated the added layer of vulnerability that was hinted throughout the story. It's a testament to Grey's writing that such different qualities can be intertwined so well in a novel. It's refreshing to see an author acknowledge that a strong woman can be both tough and vulnerable. I think that too often such a fact is overlooked by writers in all genres.
Caius was also an incredibly complex character. With Caius we see a leader who is forced to kill for his 'side' but we also see a compassionate leader who just wants peace on all sides, having personally felt the loss and horror that the ongoing war between the Avicens and the Drakharins has brought to both sides.
I appreciated the way Grey dealt with violence and the repercussions of violence in this novel. One particular character is forced to help and save another character who injured them, and the character does not immediately forgive the other character after a 'sorry' is said. We see the character be hesitant and distrustful – something I definitely appreciate as a reader who sometimes isn't comfortable with the complacency of some writers to make characters quick to forgive after violence (especially if there was some kind of almighty 'greater good' or 'easy to sympathise' reason for it).
I will say that I'm not a huge fan of the cover. While the feather is pretty, having finished the novel I'd say it could have been more eye-catching. I do like the simplicity of it, I just don't think it screams 'please pick me up now I'm so beautiful'. I also think the ending was a TINY bit predictable – although there were some surprising twists and turns – I still TOTALLY called it. Which I do think is a little disappointing from such a promising novel.
Also, I am NOT a fan of love triangles. I'll just leave it at that.
I've heard people compare this novel to Daughter of Smoke and Bone, although since I haven't read this one either (it's on my TBR list!!) I can't say for certain if that's true or not. Although I trust the people I've heard it from! So if you liked Daughter of Smoke and Bone, this could be your next go-to read.
It's been awhile since I've been able to positively say I truly enjoyed a book – and I'm incredibly glad I picked this one up from my 'will read eventually but not in the next six months pile' on my bookshelf.
Thank you to Hachette Australia for providing a physical copy in exchange for an honest review.
The following two tabs change content below.
Alana
Alana is second in command of ThoughtsbyJ. A 22-year old book lover with an incurable case of wanderlust, she often struggles to find time to blog and comment (but she gets there eventually). She doesn't have a favourite genre, as long as she enjoys the book it's a win!