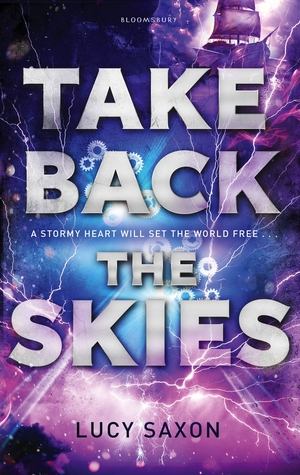 Title: Take Back the Skies (Take Back the Skies #1)
Author: Lucy Saxon
Rating: ★ ★ ☆ ☆ ☆
Genre: Science-Fiction, Steampunk, Fantasy
Format Read: ARC, 378 pages
Publication Date: 5th June 2014 by Bloomsbury (UK & ANZ)
Synopsis: "Catherine Hunter is the daughter of a senior government official on the island of Anglya. She's one of the privileged – she has luxurious clothes, plenty to eat, and is protected from the Collections which have ravaged families throughout the land. But Catherine longs to escape the confines of her life, before her dad can marry her off to a government brat and trap her forever.


So Catherine becomes Cat, pretends to be a kid escaping the Collections, and stows away on the skyship Stormdancer. As they leave Anglya behind and brave the storms that fill the skies around the islands of Tellus, Cat's world becomes more turbulent than she could ever have imagined, and dangerous secrets unravel her old life once and for all . . ." (Taken from Goodreads)
[divider]
Catherine (Cat) Hunter was born into the government, the ruling power of Anglya. What was once a thriving country that ruled the other five in the world of Tellus, Anglya's royals suddenly disappeared and the country fell into this wicked dictatorship run by a government that Collects children for a 'war' that doesn't actually exist.
Stifled by a life where she's supposed to obey her father, and act as an obedient wife to her future betrothed, Cat decides to run away to the shipyard after being urged by her sick mother to find a better, happier life for herself. What she discovers while aboard the Stormdancer basically changes the course of everything she's ever known in her whole life.
Firstly, I'd like to applaud the author for such her writing achievement. Lucy Saxon wrote this book when she was 16, and as a debut author, she took a chance and the ending was definitely a pretty bold choice. It definitely would not suit a lot of readers. But in saying that, she is a debut author and you can tell from the way this book is written. She is definitely an author to look out for, with practice I'm sure her writing skills will get better.
Unfortunately, I was not a fan of Take Back the Skies. I did manage to finish it because I kept hearing there was a wtf twist at the end. And as someone that doesn't like skipping to the end, I had to endure the wait.
The book in itself is not bad. Lucy has written something that, while not original, is pretty cool. What didn't work for the book was its execution. The characters were bland, the world-building lackluster and the action…well, that fell through as well unfortunately.
Cat is quite a stubborn character, and I felt she acted much older than her age. Apparently 15, she was doing things and making plans that did not warrant her personality. As someone that grew up with the privileges she had, I felt her anger towards the government was quite unjustified. She blamed her horrible homelife on her father, who may have been strict and neglectful, but was not abusive. She was never once thankful for what she was given in her life, but kept pointing out that it was so unfair that she was being used as a pawn in her father's business deals. Now, I don't support what her father was doing either, but her reasoning behind his evilness felt unjustified. He was evil, because she said he was.
The inhabitants on the Stormdancer, where she stowed away on were also unmemorable. They were there as supporting characters, but you don't really get told any of their backgrounds.
Matt: The hungry one, and who seems to have love(?) relationship with Ben
Ben: The one with the scar (which was mentioned once or twice) and missing sister.
Harry: The captain
Alice: The captain's wife, she cooks the meals
Fox: The romantic interest with fiery red hair and a hot-cold personality – parents died in a fire
Yes, that is seriously all I managed to gather of them. Oh, and Ben is blond or something.
It was extremely frustrating to see them be so supportive and accepting of Cat from the get-go. Cat says something – oh yes, let's do it! Fox was the only bearable character that showed any personality. He was rightfully pissed off when he discovered that Cat had lied about her gender, when everyone else is just, "oh nevermind". Every time Cat makes a mistake, Fox goes off at her and I cheer. It takes him a long time to open up to her, and when he does, Cat turns his story into an attack on her, thinking he's judging her for being a government brat. She gets pissed off over and over when he doesn't 'trust' her like everyone else. Considering they've known each other for a week, her overreaction was very annoying.
So did I ship them? No. No I didn't.
Plot-wise, I'm confused as to how they're 'taking back the sky'. In all honesty, they spend roughly 15 pages of the entire book actually flying in the Stormdancer. The rest is spent grounded as Cat convinces the crew to…oh I don't know…risk their lives to sneak into the government building. The supposedly most secured place on Anglya.
Except it's not. The team manages to secure the blueprints to the building in a matter of hours, and even discovers that there's a damaged gate they can sneak into on the same day! Omg, so lucky! When Fox and Cat get into the building to explore, no guards seem to be conveniently around, and apparently there's either no security cameras or the guard monitoring the cameras have fallen asleep for two days.
Every time they do get caught, something conveniently happens, so the action was definitely short lived. Cat even runs off by self at one point, not even bothering to hide…but oh so luckily, she doesn't come across a single guard. And she wonders why Fox got pissed at her for running off so stupidly.
The romance between the two was slow, yet I can't say it wasn't instalove either. Cat develops a crush on Fox a day or two after she meets him, and after a week or so of fighting, they admit their love for each other. Sigh. I didn't buy it, not at all. And let's not forget, let's throw in another person to spice things up. Although it was barely a love-triangle, the attempt really annoyed me to no end.
While the book definitely has its flaws, I would say the ending was interesting enough. There is a pretty big twist (which I felt meh towards), but it may impact on other readers' overall enjoyment of the book. But in all honesty, I'm glad it happened. And I'm not even surprised it happened because they were just stupidly standing around when there was an issue that was lying there in the middle of the room that they decided to ignore.
So overall, the flaws of the novel impacted on my overall enjoyment. But Lucy definitely seems like a writer who'll improve with time. I won't rule out reading her books again, and I may even pick up the second book in the series. Just to see where in the world she's going to go with the story.
Thank you to Bloomsbury Australia for providing an ARC in exchange for an honest review.
The following two tabs change content below.
Joy is the head honcho of
Thoughts By J
. Her favourite genres are fantasy, sci-fi, mysteries, and the occasional romance that makes her heart beat faster. You'll find she's quite sporadic with her blog posts, but will definitely find the time to reply to all your comments, and visit your blogs...it's just a matter of when.