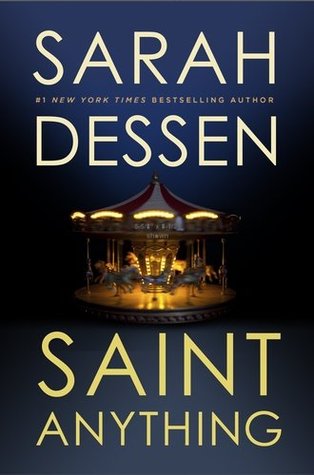 Title: Saint Anything
Author: Sarah Dessen
Rating: ★ ★ ★ 1/2
Genre: Young Adult, Contemporary, Romance
Format Read:  Paperback, 448 pages
Publication Date: 5th May 2015 by Penguin Australia
Synopsis: "Peyton, Sydney's charismatic older brother, has always been the star of the family, receiving the lion's share of their parents' attention and—lately—concern. When Peyton's increasingly reckless behavior culminates in an accident, a drunk driving conviction, and a jail sentence, Sydney is cast adrift, searching for her place in the family and the world. When everyone else is so worried about Peyton, is she the only one concerned about the victim of the accident?

Enter the Chathams, a warm, chaotic family who run a pizza parlor, play bluegrass on weekends, and pitch in to care for their mother, who has multiple sclerosis. Here Sydney experiences unquestioning acceptance. And here she meets Mac, gentle, watchful, and protective, who makes Sydney feel seen, really seen, for the first time.

The uber-popular Sarah Dessen explores her signature themes of family, self-discovery, and change in her twelfth novel, sure to delight her legions of fans." (Taken from Goodreads)
[divider]
I'm a HUGE fan of Sarah Dessen's books so when I heard Saint Anything was her latest YA novel I just had to get my hands on it the instant it was in bookstores!
The novel follows Sydney and her family, just after her brother has been charged with drunk driving and sentenced to jail for hitting a teenage boy and leaving him paralysed from the waist down. Sydney's horrified and embarrassed, particularly because even after everything, her parents still can't see the damage Peyton's actions have done – to both their lives and the victim's.
"What was a fifteen-year-old doing out riding his bike at two in the morning anyway?" 
Wanting a fresh start, Sydney chooses to move from her expensive preppy high school to the local public school where she is immediately adopted by the Chatham's, in particular brother and sister duo Mac and Layla. It's these two, and the rest of the Chatham clan, who open Sydney's eyes to the importance of true friendship, family connections and most importantly love. But will her family ever look past Peyton and see how lost she really is? Or is she forever doomed to live in the shadow of her brother's mistakes?
Dessen, as always, brilliantly creates such wonderful character relationships – particularly between Sydney and Layla. My favourite type of friendship to read is one that blossoms throughout the novel, bringing out the best in both characters. While it's great to also read a novel where such a friendship has already been cemented, it's nice to experience growing friendships as they develop and interweave throughout the novel.
Dessen also has immense talent in creating a love interest in her novels that so perfectly complements the protagonist. I enjoyed reading about Mac and watching his and Sydney's relationship flourish, however I will say that I felt that something was lacking. Perhaps this was due to more of a focus on the friendship of Sydney and Layla (which is not a bad thing in the slightest – and which I very much applaud) but I didn't seem as invested in their relationships as I have perhaps in previous Dessen novels.
I will say that the mother/daughter relationship PISSED me off. Sydney's mother was so focused on Peyton she was absolutely blinded by anything that was going on with Sydney. Like really, to a point I get it. I can't imagine what emotionally a mother who's child is in prison is going through…but DUDE. You've got another child in your home that also needs you…PAY ATTENTION and don't let some creepy 'friend' of your child WHO IS IN PRISON, live in your home. And DON'T leave your daughter alone with him. That is common sense 101.
Overall, although I did enjoy it much more than Sarah's previous novel The Moon and More, Saint Anything just didn't live up to The Truth about Forever or Just Listen. I feel like Sarah Dessen just can't live up to the high expectations I've put up on her since I've read both of those incredible novels (and all the others of course). It still was an enjoyable read, and I definitely recommend it! Although, if this is your first foray into her writing, definitely read the other two first!
The following two tabs change content below.
Alana
Alana is second in command of ThoughtsbyJ. A 22-year old book lover with an incurable case of wanderlust, she often struggles to find time to blog and comment (but she gets there eventually). She doesn't have a favourite genre, as long as she enjoys the book it's a win!