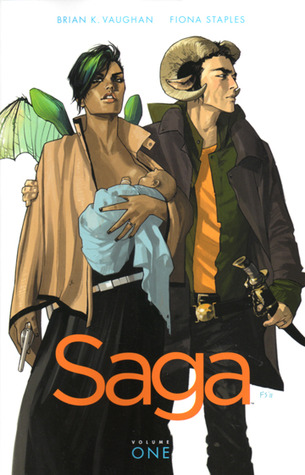 Title:  Saga Volume 1 (Saga #1-6)
Author: Brian K. Vaughan & Fiona Staples
Rating: ★ ★ ★ ★ ☆
Genre: Graphic novel, Fantasy, Adult, Science Fiction
Format Read: Graphic Novel, 160 pages
Publication Date: 10th October 2012 by Image Comics
Synopsis: "When two soldiers from opposite sides of a never-ending galactic war fall in love, they risk everything to bring a fragile new life into a dangerous old universe.

From New York Times bestselling writer Brian K. Vaughan (Y: The Last Man, Ex Machina) and critically acclaimed artist Fiona Staples (Mystery Society, North 40), Saga is the sweeping tale of one young family fighting to find their place in the worlds. Fantasy and science fiction are wed like never before in this sexy, subversive drama for adults.

This specially priced volume collects the first six issues of the smash-hit series The Onion A.V. Club calls 'the emotional epic Hollywood wishes it could make.'" (Taken from Goodreads)
[divider]
Saga came with many positive recommendations from my friends, both in the blogging community and outside. While I'm a fan of fantasy and science-fiction, the premise of Saga sounded extremely weird and I probably wouldn't have read it if Jaz hadn't lent me her copy. Thank you Jaz!
Saga Vol. 1 follows the characters Alana and Marko as they escape from the clutches of soldiers that are hunting them down for treachery. You see, Alana and Marko are two soldiers from different planets that have been at war with each other for hundreds of years. Their people despise each other, but in the midst of all this hate, Alana and Marko found each other. The first volume follows their escape from soldiers as well as bounty hunters hired to bring them down.
The relationship between them is just beautiful and so real. It's amazing how well developed they both are in a book that's only 160 pages. These two argue when stressed but love each other dearly, and it's hard not to ship them together. Saga is actually narrated by their unplanned child, Hazel, who we see Alana give birth to in the first few pages.
The world-building for this graphic novel is just phenomenal. It's truly hard to explain the depth of it and how freaking odd everything is…but it just works, you know. The art is also really weird but it fits with the oddness of the story and everything seems to have a synergy that complements each other.
Saga Vol. 1 explores many different plotlines that intricately weave together. You might think that would clutter up the story but once again, it doesn't. It just works. I don't know what sorcery this is but I don't even care! I'm hooked and I can't wait to continue with the story of Alana, Marko and Hazel. GIMME MORE!
The following two tabs change content below.
Joy is the head honcho of
Thoughts By J
. Her favourite genres are fantasy, sci-fi, mysteries, and the occasional romance that makes her heart beat faster. You'll find she's quite sporadic with her blog posts, but will definitely find the time to reply to all your comments, and visit your blogs...it's just a matter of when.