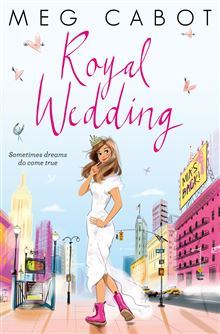 Title: Royal Wedding (The Princess Diaries #11)
Author: Meg Cabot
Rating: ★ ★ ★ ☆ ☆
Genre: Contemporary, Romance, Adult
Format Read: Paperback, 434 pages
Publication Date: 2nd June 2015 by Pan Macmillan Australia
Synopsis:  "A brand-new new adult instalment of the most popular YA series in all the land! Princess Mia is engaged to be married, but since when in Mia's life did anything go to plan?! Fall back in love with Mia in this new book for older readers.
From Meg Cabot, the #1 New York Times bestselling author of the Princess Diaries series, comes the very first new adult instalment, featuring the now grown-up Princess Mia!
Royal Wedding follows Princess Mia and her Prince Charming as they plan their fairy tale wedding – but a few poisoned apples could turn this happily-ever-after into a royal nightmare.
For Princess Mia, the past five years since college graduation have been a whirlwind of activity, what with living in New York City, running her new teen community centre, being madly in love, and attending royal engagements. And speaking of engagements, Mia's gorgeous longtime boyfriend Michael managed to clear both their schedules just long enough for an exotic (and very private) Caribbean island interlude where he popped the question! Of course Mia didn't need to consult her diary to know that her answer was a royal oui.
But now Mia has a scandal of majestic proportions to contend with: Her grandmother's leaked "fake" wedding plans to the press that could cause even normally calm Michael to become a runaway groom. Worse, a scheming politico is trying to force Mia's father from the throne, all because of a royal secret that could leave Genovia without a monarch. Can Mia prove to everyone – especially herself – that she's not only ready to wed, but ready to rule as well?"
[divider]
The beloved gang you grew up withMy  is back. Royal Wedding is a dream come true for every reader that grew up with The Princess Diaries — and I don't mean just the movies, because let's be honest, the second one sucked ass. But if you were an avid follower of the life of Princess Amelia Mignonette Grimaldi Thermopolis Renaldo, then this book was written for you. It's like Meg Cabot just knew us readers needed some sort of closure to Mia's story. And off she went and wrote us one … and it was great in all senses.
However, in the time it took this adult version of the series ending to come about, I feel like I outgrew Mia and her antics. DO YOU KNOW HOW SAD THAT MAKES ME FEEL?!
It's not that I wanted to, or even noticed it from the beginning, but halfway through the book it hit me. Mia's character grated on my nerves because the antics that made her endearing while I was younger, was not so much so as an adult. I grew up, but Mia, albeit 26, still had the personality of a 16-year-old.
This is a good and bad thing — Mia is the same person, and her personality hasn't changed because that would be weird. She's consistent, which is great, so it's really on me that I couldn't connect with her anymore. Honestly, I don't even know what to say. Hating myself just a little.
Royal Wedding is still a really great conclusion to the series though, and I know a lot of Princess Diaries fans will enjoy the conclusion, because it's the ending we've all been rooting for from the very beginning.  Mia and Michael, both grown up and moving into the next chapter of their life. This is not a spoiler because come on…it's in the title and blurb.
In true Princess Diaries style, the happy news is overshadowed by a different plot that throws the paparazzi into a royal frenzy, and we follow Mia as she records every bit of it in her diary. Honestly, the little plot twist in the middle was a little out of left field, but it was a nice way to inject a little excitement into the concluding installment of the series. Like I mentioned before, Mia is still the same loving character with a big heart, and I'm glad this hasn't changed over the years. She now runs a community centre and does everything in her power to house the refugees that are looking for asylum in Genovia.
While I've grown out of this series, it was still nice to have some closure, and I know other fans would be reading Royal Wedding for the same reason. Royal Wedding was an adorable, romantic and great conclusion to the Princess Diaries, with some twists and turns that made it more than just about a wedding. It's sad to say goodbye to these characters once and for all, but I'm happy with where they are and I'm glad to have grown up with them.
Thank you Meg Cabot and Mia, for teaching us that's it's okay to be weird and quirky — it just means you're a flower in a field of dirt.
Thank you to Pan Macmillan for providing a copy in exchange for an honest review.
The following two tabs change content below.
Joy is the head honcho of
Thoughts By J
. Her favourite genres are fantasy, sci-fi, mysteries, and the occasional romance that makes her heart beat faster. You'll find she's quite sporadic with her blog posts, but will definitely find the time to reply to all your comments, and visit your blogs...it's just a matter of when.