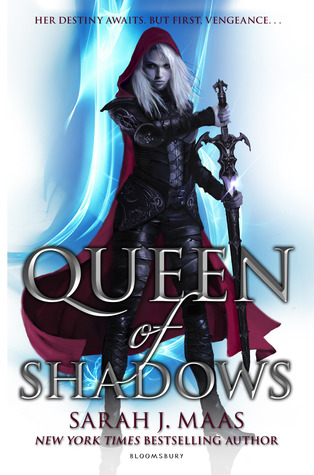 Title: Queen of Shadows (Throne of Glas #4)
Author: Sarah J. Maas
Rating: ★ ★ ★ ★ ★
Genre: Fantasy
Format Read: Paperback, 656 pages
Publication Date: 1st September 2015 by Bloomsbury Australia
Synopsis:  "Everyone Celaena Sardothien loves has been taken from her. But she's at last returned to the empire—for vengeance, to rescue her once-glorious kingdom, and to confront the shadows of her past . . .

She will fight for her cousin, a warrior prepared to die just to see her again. She will fight for her friend, a young man trapped in an unspeakable prison. And she will fight for her people, enslaved to a brutal king and awaiting their lost queen's triumphant return.

Celaena's epic journey has captured the hearts and imaginations of millions across the globe. This fourth volume will hold readers rapt as Celaena's story builds to a passionate, agonizing crescendo that might just shatter her world."
[divider]
Queen of Shadows is the fourth book in the Throne of Glass series. Read my reviews for the previous books here.
Sarah J. Maas is my kween.
I just…I can't even. I can't put together the words to describe just how amazing this series is, and continues to be. As some of you may know, I've been following this series since its first draft was published on FictionPress.
That is a lot of years guys, but it's so worth it.
Queen of Shadows continues on Calaena Sardothien/Aelin Galathynius' journey as the evil King of Adarlan's Champion to who she was born to be. Having spent a good few months in Wendlyn learning about the power that was dormant in her, Aelin is back in Adarlan to claim what was lost to her so many years ago, and kill the ones that have wronged her on the way.
This series has so many intricate plotlines, and I've been waiting a long time for them to intersect. Queen of Shadows does not disappoint in this aspect, as everything starts to come together and Aelin finds her way back to the people that she thought had been lost to her forever.
And when it happened, it was EPIC!
If you haven't noticed already, this book is 656 pages. Yep, you read that right. It's a monster of a book — yet I could do with a few more chapters. Or you know, maybe 100? I did not want the story to end, and I would gladly read Maas' to-do-list for the day if I could. I'm sure it's fabulous.
Aelin has grown up a lot since Throne of Glass, and it's amazing to see her come to terms with her loss, but also fight through it to pave a way for her future. Her past is what shapes her into the person she is in the fourth book, and I'm glad that she spends some time reflecting on the events that have brought her to where she is now. Stronger, and more powerful than ever.
Plot-wise, everything in the previous installments are starting to click together. As I mentioned before, storylines are starting to weave and intersect, and we along with Aelin start to learn just who she and the rest of Terrasen are up against. Because if you thought the King of Adarlan was bad, just wait till you read about the Valgs.
We're introduced to a few new characters, and meet and get to know a few old ones as more and more of the story is revealed to the reader. This is why Maas is kween. This series is never, ever predictable — and this is coming from someone that's read the FictionPress draft. The versions are truly different.
Apart from the intriguing plot, what I enjoy most about this series are the characters. I love the values each hold, how realistic they are especially when it comes to decision making, and how true to self every single one are. They're flawed, so flawed. They get angry. They make mistakes. But at the end of the day, every single little thing that makes them, them, is the reason why this series is amazing.
However, I'm just not on board this ship between Aelin and *ahem*. I won't spoil who she ends up with, but you know, I always had a soft spot for Dorian. But who I really loved was Sam. If you haven't read The Assassin's Blade (um, you should), then you might be a little confused with who Sam is. Queen of Shadows touches upon Aelin and Sam's story, but not enough to show you just how perfect he is. *sigh*
It's the ship that will never sail. 🙁
If you haven't read this series, then please, please give it a go! It's absolutely epic and downright glorious. A very well deserved 5 out of 5 stars. PLEASE GIVE ME MORE!
Thank you to Bloomsbury Australia for providing a copy in exchange for an honest review.
The following two tabs change content below.
Joy is the head honcho of
Thoughts By J
. Her favourite genres are fantasy, sci-fi, mysteries, and the occasional romance that makes her heart beat faster. You'll find she's quite sporadic with her blog posts, but will definitely find the time to reply to all your comments, and visit your blogs...it's just a matter of when.