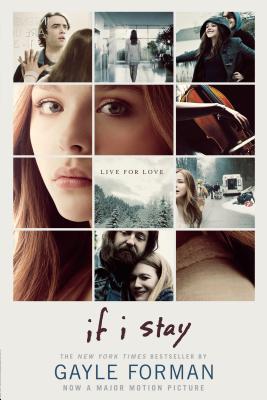 Title: If I Stay (If I Stay #1)
Author: Gayle Forman
Rating: ★ ★ ★ ☆ ☆
Genre: Contemporary, Young Adult
Format Read: Paperback, 272 pages
Publication Date: 1st July 2010 by Random House Australia
Synopsis: "Just listen, Adam says with a voice that sounds like shrapnel.

I open my eyes wide now.
I sit up as much as I can.
And I listen.

Stay, he says.

Choices. Seventeen-year-old Mia is faced with some tough ones: Stay true to her first love—music—even if it means losing her boyfriend and leaving her family and friends behind?

Then one February morning Mia goes for a drive with her family, and in an instant, everything changes. Suddenly, all the choices are gone, except one. And it's the only one that matters.

If I Stay is a heartachingly beautiful book about the power of love, the true meaning of family, and the choices we all make." (Taken from Random House Australia)
[divider]
If you were in a horrific accident and had the choice to live or die, what would you choose? This is the choice that Mia Hall has to make one February morning, when her life is suddenly turned upside down. Following a car accident, where her whole family is killed, Mia wakes up to find herself unharmed … but her real body is in critical condition. What follows is a tragic day where Mia must consider everything she's lost and about to lose. And it's all up to her, whether she stays or not.
The best thing about this book is how much focus it had on family. We don't really get that a lot in YA, so it was really nice to be able to know a little of Mia's background and upbringing. As a child of two rocker parents, Mia feels out of place within her family because she was born with the love of classical music and a gift with playing the cello. Her family supports her interests and are all extremely proud of her accomplishments though. They have this unbreakable bond that Mia treasured, making it extremely heartbreaking when the accident happened. She's a girl that loved her family, and we are given glimpses of their family dynamic through Mia's flashbacks.
Another large part of the book is Mia's romance with Adam, a popular boy that noticed her for her love of music. While they may seem to come from different worlds, their shared passion for music brought them together. I found their love to be very realistic. They were awkward, had fights and behaved like teenagers – like they should. One thing I must say Forman does really well is capture the realistic qualities of all her characters. I felt like I truly got to know Adam and Mia's relationship and was there while they fell for each other.
This book is about family and love and also about friendship. We don't really get to know Mia's best-friend, Kim, very well but just enough. Their friendship started very unconventionally, with people pushing them together. The more people expected them to be friends, the more they refused to. Suddenly, their hatred for each other turned into fighting, which turned into friendship. Kim is a very tough but lovable character and I could definitely see myself being friends with her. She and Mia share a very believable friendship, and when Mia is being operated on in hospital, it is Kim that goes and informs Adam of what had happened.
As time moves on and Mia remains in her coma, we learn more and more about her life, and thus the hard decision she has to make. At first she was adamant in staying for her brother, Teddy, who was also fighting for his life. But when Teddy passes, Mia begins to question the point of staying when she's lost her whole family. It is not until her grandpa and Kim comes in, saying they want her to stay but that's it's also okay to let go, that Mia makes up her mind. But before she can truly let go, Adam returns.
The ending of the book is very open-ended. At first I had to read over the last line a few times to wrap my head around what had actually happened. To be honest, I wasn't 100% sure, but then I looked up the series and realised that there was a sequel, which cleared some things up.
Overall, If I Stay was a good read, but it wasn't spectacular. The writing was choppy and the scenes jumped back and forth very awkwardly. However, don't let that deter you because I still thoroughly enjoyed it. It elicits a rollercoaster ride of emotions, swinging from happy to sad all in a matter of paragraphs. Yes, I cried (is this even a surprise?). It's pretty hard not to when you realise how much Mia has lost.
I've been told Where She Went is a lot better than If I Stay, so I'm excited to see where the story leads!
Thank you to Random House Australia for providing a copy in exchange for an honest review.
The following two tabs change content below.
Joy is the head honcho of
Thoughts By J
. Her favourite genres are fantasy, sci-fi, mysteries, and the occasional romance that makes her heart beat faster. You'll find she's quite sporadic with her blog posts, but will definitely find the time to reply to all your comments, and visit your blogs...it's just a matter of when.