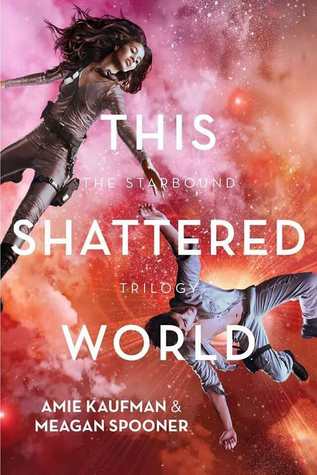 Title: This Shattered World (Starbound #2)
Author: Amie Kaufman & Meagan Spooner
Rating: ★ ★ ★ ★ 1/2
Genre: Science-Fiction, Romance, Young-Adult
Format Read: Paperback, 390 pages
Publication Date: 19th November 2014 by Allen & Unwin Australia
Synopsis: "The second installment in the epic Starbound trilogy introduces a new pair of star-crossed lovers on two sides of a bloody war.

Jubilee Chase and Flynn Cormac should never have met.

Lee is captain of the forces sent to Avon to crush the terraformed planet's rebellious colonists, but she has her own reasons for hating the insurgents.

Rebellion is in Flynn's blood. Terraforming corporations make their fortune by recruiting colonists to make the inhospitable planets livable, with the promise of a better life for their children. But they never fulfilled their promise on Avon, and decades later, Flynn is leading the rebellion.

Desperate for any advantage in a bloody and unrelentingly war, Flynn does the only thing that makes sense when he and Lee cross paths: he returns to base with her as prisoner. But as his fellow rebels prepare to execute this tough-talking girl with nerves of steel, Flynn makes another choice that will change him forever. He and Lee escape the rebel base together, caught between two sides of a senseless war.

The stunning second novel in the Starbound trilogy is an unforgettable story of love and forgiveness in a world torn apart by war." (Taken from Goodreads)
[divider]
Read my thoughts on These Broken Stars before this review!
This Shattered World is an infinity times better than These Broken Stars. If you've read my review for the first book, then you'll understand that what I found lacking in the book was the adventure and world-building elements that make up a great science-fiction novel. If you set a story in space, I expect to read about other planets that make up that world. I want to know about the dynamics that make this world tick, and how it stands on its own. This Shattered World does what I expected These Broken Stars to do, and it does it extremely well. The reader is finally provided a glimpse of the wider universe within this series, and it's a truly marvelous place.
The second book in the series follows new characters called Jubilee Chase and Flynn Cormac. Stationed on Avon, a planet that is being terraformed, Jubilee is a captain of the military based on the planet in order to keep peace and order. Flynn is a part of the rebel group that wants answers for his people. Answers for why the promise of a better life for his planet is continuously delayed, and why a sudden building has appeared in the east out of nowhere. Flynn kidnaps Lee as a prisoner, but as his fellow rebels prepare to execute her for her involvement with their enemies, Flynn does the unthinkable and sets her free.
I loved Jubilee Chase. She was a vast improvement on Lilac LaRoux and knew her own strengths and limitations as well. Her life was built from a young age when she lost her parents to the rebellion on her home planet Verona. She's independent, fierce and selfless but also loyal to the people she respects. Jubilee is described as the Captain without a soul, but as the story progresses, we learn about her background history and why she tends to protect herself from everyone else. Flynn comes from a time where he remembers what life on Avon was like before the military and terraforming began. His sister led the first rebellion against the military, but paid the ultimate price for it when she was captured. Now Flynn wants to change the way his people approach the issue, by asking for peace and answers rather than war. However, there are people that oppose his methods and want to end the suffering of their planet immediately. We see him making hard decisions and even going against his people for an outcome that he truly believes in. Even after losing everyone he loves, Flynn does not waver from what he believes is right.
I truly adored the dynamic between Jubilee and Flynn. Once enemies, they soon bond over the truth of what's really happening on Avon, and are willing to isolate themselves from their people for the greater good. I think the biggest difference between them and Lilac and Tarver is their selflessness. I really respected both Jubilee and Flynn, whereas I just couldn't connect with Lilac and Tarver (mainly Lilac) because she was so annoying. The romance develops nice and slow (THANK YOU), and I found myself rooting for them by the end. Even as the story kept pulling them apart, I had faith and squealed a little when they finally admitted their feelings. This growth is especially exciting in Jubilee, who refused to create emotional attachments to anyone prior to meeting Flynn. He slowly breaks down the walls she's placed around herself and I felt genuinely happy for her when they came tumbling down.
The plot was also a vast improvement. Where I found These Broken Stars dragged along at a snail's pace, This Shattered World was a continuous adventure from start to finish. It builds upon what we know about LaRoux Industries and finally touches upon the evil of Roderick LaRoux. We finally learn what his purpose for the 'whispers' are, and how evil the man really is. Unfortunately, like I mentioned in my first review, I would still like to see more background into Roderick LaRoux and how he came about to being the way he is.
This Shattered World is a brilliant second novel to The Starbound Trilogy. For anyone that didn't love the first book like myself, I highly recommend you to pick up the second novel because many of the issues from the first is improved upon. I'm so glad this series didn't suffer from second-novel syndrome – I am now highly anticipating the third and final book in this series. It's (star)bound to be epic!
Thank you so much to Allen & Unwin Australia for providing a copy in exchange for an honest review.
Giveaway
Giveaway is for Australian residents only
Entrants must be 13 years or older
Winner(s) will be contacted by email 48 hours after the giveaway ends. If you do not reply within 48 hours of receiving the email, a new winner will be picked
 Abide by the rules, winner(s) found cheating will be disqualified and a new winner(s) will be chosen
The following two tabs change content below.
Joy is the head honcho of
Thoughts By J
. Her favourite genres are fantasy, sci-fi, mysteries, and the occasional romance that makes her heart beat faster. You'll find she's quite sporadic with her blog posts, but will definitely find the time to reply to all your comments, and visit your blogs...it's just a matter of when.