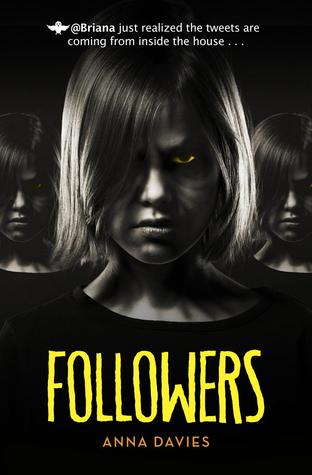 Title: Followers
Author: Anna Davies
Rating: ★ ☆ ☆ ☆ ☆
Genre: Young Adult, Mystery, Thriller, Horror
Format Read: Paperback, 224 pages
Publication Date: 24 June 2014 by Scholastic Australia
Synopsis: To tweet or not to tweet . . . what a deadly question. When Briana loses out on a starring role in the school's production of Hamlet, she reluctantly agrees to be the drama department's "social media director" and starts tweeting half-hearted updates. She barely has any followers, so when someone hacks her twitter account, Briana can't muster the energy to stop it. After all, tweets like "Something's rotten in the state of Denmark . . . and a body's rotting in the theater" are obviously a joke. But then a body IS discovered in the theater: Briana's rival. Suddenly, what seemed like a prank turns deadly serious. To everyone's horror, the grisly tweets continue . . . and the body count starts to rise. There's no other explanation; someone is live-tweeting murders on campus. With the school in chaos and the police unable to find the culprit, it's up to Briana to unmask the psycho-tweeter before the carnage reaches Shakespearian proportions . . . or she becomes the next victim. (Taken from Goodreads)
[divider]
So I was meant to review this AGES ago for Halloween (oops) but around that time all my assignments were due and I was struggling to keep up with the onslaught of uni work. So here it is… only a couple of months late.
I'm going to be honest here. I am a fan of horror books, but I don't do well while reading horror books (think Joey from Friends putting The Shining in the freezer) so this cover FREAKED me out. Seriously. I had a hard time reading this at night. The eyes seriously scared me.
However, after reading the novel I didn't really see how the cover correlated with the actual story. From looking at the cover I thought it would be about how three creepy twins going on a murdering rampage. BOY was I wrong … although there was a murder rampage, so props to me.
Basically, the story follows Briana, a shy teenager who is forever living in the shadow of her mother's high expectations. That's why she's chosen to transfer to a boarding school in Maine that specialises in the performing arts. Although she signed up to play Ophelia in the school's rendition of Hamlet, Briana instead lands the role of 'social media director' and begins to tweet about the behind-the scenes shenanigans of the play at the request of their new director. It's only when someone under the pseudonym Hamlet'sGhost starts tweeting foreboding messages and cast members start to die in freak 'accidents' that Briana realises something more sinister is afoot. It's up to her to figure out who's behind these accidents before the whole school casts the blame on the one person who's got something to gain from these murders – herself.
Although Followers had an intriguing storyline, it failed to delve into deeper aspects of the plot and characters.  It felt rushed and one-dimensional, and I really feel that 224 pages was just not enough for the plot to really be done with justice. This book was definitely a case of 'WAM BAM okay we're done now' and the ending, although relatively predictable, just felt unfinished and rushed. I was really disappointed that we weren't given enough time to really get to know the other characters properly.
Not to mention that the first murder doesn't even happen until halfway through the book! While normally not so problematic for other books, keep in mind that the main premise of Followers is the murder mystery. Added to which the length of the book is so short, it really should not have taken 100 pages to introduce the main character and key players of the books, especially when most of the characters apart from like 2 are glossed over.
Another thing that irked me? The synopsis. Clearly whoever wrote this blurb did NOT read the book. There are so many errors and inconsistencies it's actually embarrassing. Firstly, the book mentions the 'police'. In actuality there was little mention of any police presence at all with the school 'handling it themselves' and deeming every murder merely an accident with little hint of a proper investigation. While this presents a pretty fictional representation of reality, it's also unnecessary to include in the blurb. Why?
Because it simply didn't happen. Add that to the fact that nobody actually hacked Briana's twitter account, but instead CREATED their own twitter account called Hamlet's Ghost and tweeted TO Briana… and well, you get my point. Obviously this isn't the author's fault as they rarely have control over these types of things, but it's just incredibly frustrating to read a book and find out the blurb is just utterly wrong.
This book was just everywhere. There was a small romance (and I mean small) but even that felt rather aloof and distant to me. It jumped from one thing to another and just ended up confusing me to the point where I skimmed to the end. Often, such twists and turns didn't help to further the storyline or the mystery and there were just so many unnecessary characters or not enough focus on characters who were going to be murdered. Shouldn't I care that these people are dead? Well, I didn't.
I didn't care for ANY of the characters. They were written in such a way that I couldn't even get a handle on their personalities. I was left really confused about what their motivations were, which really puzzled me.
Overall, this book pretty much had me feeling like this:
However, I do think with more pages the storyline probably could have been hashed out better and far less sudden. This is my first one-star read ever… hopefully it's not a regular occurrence!
Thanks to Scholastic Australia for a copy in exchange for an honest review.
The following two tabs change content below.
Alana
Alana is second in command of ThoughtsbyJ. A 22-year old book lover with an incurable case of wanderlust, she often struggles to find time to blog and comment (but she gets there eventually). She doesn't have a favourite genre, as long as she enjoys the book it's a win!