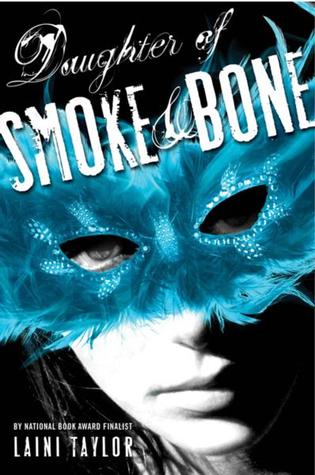 Title: Daughter of Smoke & Bone (Daughter of Smoke & Bone #1)
Author: Laini Taylor
Rating: ★★★★☆
Genre: Young Adult, Fantasy, Paranormal
Format Read: Paperback, 418 pages
Publication Date: 5th June 2012 by Little, Brown Books
Synopsis: "Around the world, black handprints are appearing on doorways, scorched there by winged strangers who have crept through a slit in the sky.

In a dark and dusty shop, a devil's supply of human teeth grown dangerously low.

And in the tangled lanes of Prague, a young art student is about to be caught up in a brutal otherwordly war.

Meet Karou. She fills her sketchbooks with monsters that may or may not be real; she's prone to disappearing on mysterious "errands"; she speaks many languages–not all of them human; and her bright blue hair actually grows out of her head that color. Who is she? That is the question that haunts her, and she's about to find out.

When one of the strangers–beautiful, haunted Akiva–fixes his fire-colored eyes on her in an alley in Marrakesh, the result is blood and starlight, secrets unveiled, and a star-crossed love whose roots drink deep of a violent past. But will Karou live to regret learning the truth about herself?" (Taken from Goodreads)
[divider]
Yes I finally decided to pick this book up two months ago when Laini Taylor came into town. I was on my way to the Hachette YA Blogger Night and went, 'what the heck, might as well start the first chapter before I meet the author!'. So I did, and guess what? Can you guess, can you guess? I was blown away. By the first chapter. Can you believe it, because I couldn't. I don't remember the last time the first chapter of a book gripped me so hard, but Daughter of Smoke & Bone (DoSaB) clung on and did not let go.
I'm not sure what I can really add to the immense amount of positive reviews out there already for this book and series. I can only reiterate the same messages, and that is: read this book.
There's something magical about Laini Taylor's writing – it sucks you in and sings lyrical into your ears until you fall into this deep abyss of love for her characters and world-building. Both are superb. The book follows an artist girl name Karou living in our modern day Prague. She is a normal student who also hides a secret from the rest of the world…she was raised by monsters. Living between two worlds, Karou must juggle her secrets, especially when she's being sent on errands around the world to collect teeth for her monster guardian Brimstone. When black handprints start appearing on the doors between our world and the world of the monsters, Karou is thrust into the middle of a war between the seraphim and chimaeras. As the secrets begin to reveal themselves, Karou begins to learn who she really is.
The story is fast-paced and brilliantly written. There was not one moment where I thought it dragged, and I definitely did not want it to end. The worlds Laini have built are beautiful and I'm so grateful that she had set her story in Prague and Morocco, two places that are rarely ever featured in the books I read. Having recently been to Prague, prior to reading this book, really helped me imagine the setting properly and I definitely felt more immersed in the world-building as I recognised a lot of the places visited by Karou.
The only negative I had with this book was how insta-lovey Karou and Akiva's relationship felt at the start. As the story progressed, I came to understand this attraction between them so this wasn't a major issue at all.
I don't know why I didn't start this series sooner but I definitely know I will be continuing on with it. The next two books are calling to me from my bookshelf, so I better go and give them some love.
Read this book.
The following two tabs change content below.
Joy is the head honcho of
Thoughts By J
. Her favourite genres are fantasy, sci-fi, mysteries, and the occasional romance that makes her heart beat faster. You'll find she's quite sporadic with her blog posts, but will definitely find the time to reply to all your comments, and visit your blogs...it's just a matter of when.