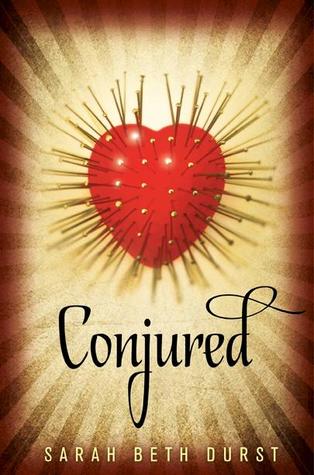 Title: Conjured
Author: Sarah Beth Durst
Rating: ★ ★ ☆ ☆ ☆
Genre: Young Adult, Fantasy, Crime, Horror, Romance
Format Read: Paperback, 384 pages
Publication Date: October 1st 2014 by Bloomsbury Australia
Synopsis: "Eve has a new home, a new face, and a new name—but no memories of her past. She's been told that she's in a witness protection program. That she escaped a dangerous magic-wielding serial killer who still hunts her. The only thing she knows for sure is that there is something horrifying in her memories the people hiding her want to access—and there is nothing they won't say—or do—to her to get her to remember.

At night she dreams of a tattered carnival tent and buttons being sewn into her skin. But during the day, she shelves books at the local library, trying to not let anyone know that she can do things—things like change the color of her eyes or walk through walls. When she does use her strange powers, she blacks out and is drawn into terrifying visions, returning to find that days or weeks have passed—and she's lost all short-term memories. Eve must find out who and what she really is before the killer finds her—but the truth may be more dangerous than anyone could have ever imagined." (Taken from Goodreads)
[divider]
This book was not at all what I thought it would be after reading the blurb. I'm not really sure how I felt about it, even after finishing it.
The story revolves around Eve, who is placed in a witness protection home to protect her from a violent serial killer. The only problem is, she doesn't remember who she was before she got to the home. The only thing she knows is that she has powers – she can make inanimate objects come to life. But every time she does, she blacks out and loses days, even weeks of her memory. As the killer approaches, Eve begins to realise that perhaps things aren't how they appear. Who can she really trust?
I had quite high hopes for this book, it had a great beginning and was paced really well. I started to get a bit antsy though as we delved into the story, and the flashbacks were just so unusual I really had no idea what was going on. Once I realised what was actually going on WTF was probably an understated reaction.
Obviously I'm not going to spoil it here, but the twist has got to be the ODDEST thing I have ever read in my life. Really. WEIRD is an understatement for this entire novel.
And the romance was SO cheesy – the way it works out in terms of Eve using her powers through kissing made some sense in terms of the overall story-line (once you get past the twist), but just had me cringing… not aww-ing like I'm assuming was the desired reaction.
I'm also really concerned that everyone had no clue about Eve's crazy memory loss. I mean really? If the girl loses weeks of her memory I'm pretty sure it would be obvious to everyone – ESPECIALLY federal agents! What kind of trained agent doesn't notice that she suddenly has no idea what her normal routine is? Like really?
There were way too many things that just didn't make sense, even towards the end. This novel took different and 'unique' to a whole new level…and not really in a good way.
I do however give props to Durst for creating a novel that was completely original from the fantasy YA (if you could call it that?) I've read before, a feat that I find rather difficult nowadays.
While I would say it was well-written in terms of style – I did read it in less than two days – it was just so odd that I find it quite hard to say I liked it.
Thank you to Bloomsbury Australia for a physical copy in exchange for an honest review.
The following two tabs change content below.
Alana
Alana is second in command of ThoughtsbyJ. A 22-year old book lover with an incurable case of wanderlust, she often struggles to find time to blog and comment (but she gets there eventually). She doesn't have a favourite genre, as long as she enjoys the book it's a win!