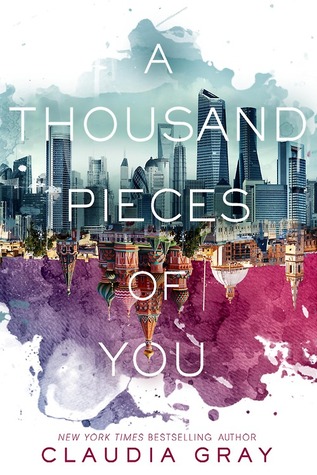 Title: A Thousand Pieces of You (Firebird #1)
Author: Claudia Gray
Rating: ★ ★ ★ ☆ ☆
Genre: Science-Fiction, Young-Adult
Format Read: Paperback, 368 pages
Publication Date: 7th October 2014 by Harper Collins Australia
Synopsis: "Every Day meets Cloud Atlas in this heart-racing, space- and time-bending, epic new trilogy from New York Times bestselling author Claudia Gray.

Marguerite Caine's physicist parents are known for their radical scientific achievements. Their most astonishing invention: the Firebird, which allows users to jump into parallel universes, some vastly altered from our own. But when Marguerite's father is murdered, the killer—her parent's handsome and enigmatic assistant Paul—escapes into another dimension before the law can touch him.

Marguerite can't let the man who destroyed her family go free, and she races after Paul through different universes, where their lives entangle in increasingly familiar ways. With each encounter she begins to question Paul's guilt—and her own heart. Soon she discovers the truth behind her father's death is more sinister than she ever could have imagined.

A Thousand Pieces of You explores a reality where we witness the countless other lives we might lead in an amazingly intricate multiverse, and ask whether, amid infinite possibilities, one love can endure." (Taken from Goodreads)
[divider]
Yes, I got roped in by the cover. Don't even lie, I bet you did too! A Thousand Pieces of You (ATPoY) was probably one of my most anticipated reads of the year because I'm a HUGE fan of sci-fi as well as time/dimensional travel. I love books that can explore multiple worlds because any author that can build one realistic world, let alone half a dozen, deserves to be read. And while I sped through ATPoY and found it enjoyable, it didn't blow my mind either. Bear with me as I try to explain why.
World-building. ATPoY begins in our modern world where Marguerite and Theo have just learned about the murder of her father. What's worse is all evidence points towards their dear friend Paul, an assistant scientist to and almost-member of Marguerite's family. Following the alleged murder, Paul stole the Firebird (an interdimensional travelling gadget and her parents' life work) and skipped out of our modern world. Fueled by anger and the need to bring justice for her father's death, Marguerite and Theo uses the spare Firebird prototypes that Theo fixes up in order to chase after Paul. Cool right? In a sense, yes. The new worlds that Gray explore in this book was interesting, but it made no sense with her explanation of interdimensional travel. She talks about worlds that are completely the same as the one Marguerite and Theo lives in, with the only difference being those of singular choices. So if Marguerite has a choice between wearing a white or black shirt, there are multiple worlds where one chooses the white and one chooses the black. And these worlds are considered the neighbours so if you were to skip to the next dimension, then you would skip to one of these very similar worlds where everything is completely the same. Are you following so far?
BUT, that was not the case. Marguerite and Theo tracks Paul's location and skips into a futuristically advanced dimension. Not only was this world not a 'neighbour' (even Marguerite raises this question to which the answer was "it's probably more similar than you think"), Gray also had so many possible ways she could have explored interdimensional travel. Unfortunately she went with the cliched route of a world filled with advanced technology.
The only world that I truly enjoyed was the Russian setting where Marguerite and Theo spends the most time in. Even so, I had so many problems with it as well because it felt like Gray wanted to not only write a book about interdimensional travel, but one on time travel as well. We literally jump from futurist London to 1900s Russia … so whatever happened to that explanation on neighbouring dimensions again? And don't even get me started on how everyone ignored the fact that this explanation should mean that there exists multiple dimensions where the Firebird has already been invented … not just the two as stated in the book.
Characterisation. It's hard to really get into detail on characters without spoiling most of the plot and its twists. Theo was pretty tame most of the time. I probably enjoyed Paul the most, he actually had a dynamic personality and is quite a selfless person. Marguerite … well I struggled with her a lot. A majority of the book sees her struggling with her feelings for Paul, even at the very beginning when she hears he killed her dad. I won't go into details in this spoiler free zone, but if you have read the book, feel free to click on the toggle for why I struggled with liking her so much.
[toggle]The biggest problem I had with Marguerite was when she was inhabiting Russian Marguerite's body. She had sex with Russian Paul while in someone elses' body – and I don't care that she felt guilty about it, because that is just wrong. And what makes it worse is she waved it off as 'Russian Marguerite would have wanted me to, and would have done the same in this situation', and 'I think I might be in love with Russian Paul'. I get it, it's sci-fi and this would never happen ever, so calm your farm Joy … but seriously what the fuck. Not only did she violate someone's body, but she used it to do things for her own benefit. And the worst thing? Russian Marguerite lost her virginity without knowing it PLUS, she never got to say goodbye to her Paul. She was the one that loved him, and normal Marguerite took advantage selfishly. I couldn't root for her at all after that. And then she goes on to whinge about not knowing which Paul she was in love with. Oh shoosh you fool.[/toggle]
Plot. What I did really enjoy was the plot! It kept me driven to finish the book and had a few twists and turns that were quite interesting. I would say the book begins slowly but picks up momentum after the Russian plotline, then it's a sprint to the finish. While the climax was quite predictable, it ended off nicely and many of the small problems were resolved. I wouldn't say I'm eagerly anticipating the next book, but I'm interested in where it will go.
While I certainly had many problems with the book, it was a quick and easy read that I'm sure will appeal to a lot readers. Hopefully you will enjoy it more than I did. If you've read the book, let me know what you thought!
Thank you to Harper Collins Australia for providing a copy in exchange for an honest review.
The following two tabs change content below.
Joy is the head honcho of
Thoughts By J
. Her favourite genres are fantasy, sci-fi, mysteries, and the occasional romance that makes her heart beat faster. You'll find she's quite sporadic with her blog posts, but will definitely find the time to reply to all your comments, and visit your blogs...it's just a matter of when.