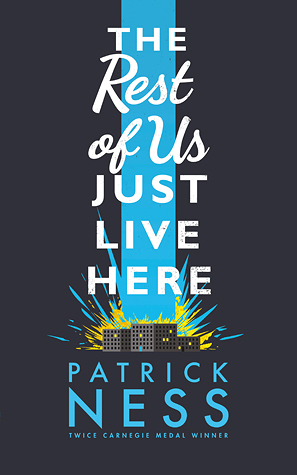 Title: The Rest of Us Just Live Here
Author: Patrick Ness
Rating: ★ ★ ★ 1/2
Genre: Fantasy, Contemporary
Format Read: ARC, 352 pages
Publication Date: 27th August 2015 by Walker Books Australia
Synopsis:  "What if you aren't the Chosen One?

The one who's supposed to fight the zombies, or the soul-eating ghosts, or whatever the heck this new thing is, with the blue lights and the death?

What if you're like Mikey? Who just wants to graduate and go to prom and maybe finally work up the courage to ask Henna out before someone goes and blows up the high school. Again.

Because sometimes there are problems bigger than this week's end of the world, and sometimes you just have to find the extraordinary in your ordinary life.

Even if your best friend is worshipped by mountain lions.

Award-winning writer Patrick Ness's bold and irreverent novel powerfully reminds us that there are many different types of remarkable. "
[divider]
The Rest of Us Just Live Here is my first Patrick Ness novel, but I now understand why everyone is in love with his writing. Ness has created a world that I've never even thought about before; it's so simple, yet so creative.
Of course, the biggest part of this story revolves around the world the characters live in — a semi-contemporary place where the characters are aware that the 'chosen ones' (aka speshul snowflakes) live amongst them. These people are known as the 'indie kids', the ones that wreck havoc around them while attempting to save the world. Mikey, the main character, and his friends exist in this same world, are affected by their actions, but in all essence live simple lives weighed down by their own life problems.
I cannot put into words just how cool this world Ness has created actually is. I'm a huge fan of high fantasy where 80% of the story is built on good world-building, but the simplicity of TRoUJLH truly blows me away. It really just works.
The book follows the lives of Mikey, his sister and two of their closest friends. The plot reads as a contemporary, touching base on many of the problems that are experienced by Mikey and his friends. They're normal problems involving growing up, dating, family and school — and when juxtaposed next to the problems the indie kids are being faced with while attempting to save the world — it truly makes you question why can't the problems faced by each respective party be in the same league? Does one problem really take precedence over the other? Aren't they all just as important, with importance determined by the person that is experiencing the problem, rather than a third party looking on?
While Mikey and his gang are considered quite normal in comparison to the indie kids, they each have their own quirks that set them apart. Mikey has OCD, his sister is recovering from anorexia, his crush is going on a mission tour in Africa and his gay best friend is a demi-god of some sort…worshipped by cats.
Yep, you read that right.
It's such a very, very odd book — and I admit that I got very confused when I first started reading it. The concept and world takes some getting used to, and while there are some action, don't expect it to take centre-stage because this novel is very much a book about people; relationships, family, how people go about their lives really. But that's simplifying it a lot.
Once again, it's quite impossible to put into words how cool this book is, so I guess you'll just have to check it out for yourself. 🙂
Thank you to Walker Books Australia for providing an ARC in exchange for an honest review. 
The following two tabs change content below.
Joy is the head honcho of
Thoughts By J
. Her favourite genres are fantasy, sci-fi, mysteries, and the occasional romance that makes her heart beat faster. You'll find she's quite sporadic with her blog posts, but will definitely find the time to reply to all your comments, and visit your blogs...it's just a matter of when.