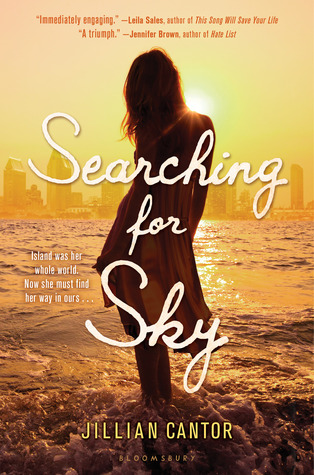 Title: Searching for Sky
Author: Jillian Cantor
Rating: ★ ★ ★ ★ ☆
Genre: Contemporary, Realistic Fiction, Young Adult
Format Read: ARC, 276 pages
Publication Date: 1st July 2014 by Bloomsbury Australia
Synopsis: "Sky and River have always lived on Island, the only world they've ever known. Until the day River spots a boat. Across Ocean, in a place called California, Sky is separated from River and forced to live with a grandmother she's just met. Here the rules for survival are different. People rely on strange things like cars and cell phones. They keep secrets from one another. And without River, nothing makes sense. Sky yearns for her old life where she was strong and capable, not lost and confused. Shemust find River so they can return to Island, but the truth behind how they ended up there in the first place will come as the biggest shock of all." (Taken from Goodreads)
[divider]
Sky and River grows up on an island with no recollection of how they arrived there. They were told they arrived on a boat, but Sky's mum and River's dad, Helmut, refuses to go into detail about their lives off island. All Sky knows is that they came from a place called California, and that the people there are evil and skeletons. Sky doesn't understand what that means, but she knows she doesn't ever want to return to California, not even when her mum and Helmut dies.
Sky is the rational one, and River is the dreamer. River remembers snippets of his old life because he's older and he remembers there's a mother back in California that loves him. River wants to get off island, and one day he spots a boat in the distance that ends up rescuing them.
Searching for Sky is considered a reverse dystopian, in the sense that instead of living in a ruined society, River and Sky returns to reality and has to assimilate into a life they'd long forgotten about. This novel is about survival, family, love and the impact people's actions can have on others. It is a beautifully written book that I highly recommend to everyone.
Back in California, Sky and River is separated as Sky's grandmother takes her away to live with her. She's presented with a group of experts that's there to 'cure' her, and attempt to teach her how to be 'normal'. It was emotionally draining for me to read about everyone trying to force Sky into being someone she's not, and she expressed it perfectly with her anger towards everyone referring to her as 'Megan', the girl that she once was. I was frustrated along with Sky as everyone around her kept secrets about her past, believing she was too weak to handle the truth. And worst of all, River was removed from her life with barely a goodbye. Having spent her entire life with River, I could almost feel her pain as she had to endure this new and daunting world without the one person she thought would always be by her side.
I really enjoyed the character development in Sky. She had to learn to assimilate herself into a world much more complicated than her life on island, and she begins to understand that there truly is evil in this new place. She does slowly manage to adapt, but at the back of her mind, she continues to long for her island home and devises ways to go back there once she finds River again.
It's not really a surprise that Sky and River does manage to find each other. What I don't understand…is how. In a sad yet stalkerish way, River manages to figure out where Sky is staying with her grandmother and keeps an eye on her by living close by. In a cave. Near the beach. He explains that because he's 18, the authorities let him go off by himself because he has not immediate family, and his aunt refuses to take him in. Um, wtf?! As a citizen of the US, who grew up on an island, I found it highly unbelievable that they would release him into such a different environment without even teaching him the basics of survival within a city. They literally just let him go like a bird, and said flyyyy my pretty. Not to mention how the heck did he manage to find Sky again in such a big city?!
It's also not really surprising that Sky and River share a very strong bond with each other. Having known each other all their lives, they were definitely best friends. However, while I loved how close their bond was, I couldn't help but find it weird that they grew to love each other romantically. Sky had explained that Helmut was basically her dad, while her own mother acted as River's own mother on the island. They were brought up as siblings…so yes, it did creep me out a little that although they weren't related, they ended up romantically involved. Psychologically speaking, even though you're not related, having grown up with someone like a sibling means that romantic tendencies should not even arise once they're older. I don't know…did anyone else feel this was weird?
But regardless of those negative points, the story of Sky and River was very captivating. I've never read a 'reverse dystopian' before, so it was interesting to see how people that grew up with so much freedom adapted to a world where we're all chained down by money and technology. The contrast between Sky's adaptation and River, who was offered no education, was heartbreaking. Similar to Sky, we begin to feel sorry for how lost River becomes and how mistreated he is for his past.
The ending honestly broke me to pieces. I cannot even explain how many tissues I used as I sobbed my way through the last few chapters. Jillian Cantor really does a beautiful job describing the feeling of loss and heartache – my used tissues can be a testament to it.
Overall, Searching for Sky was a beautiful and eye-opening read. It is a multi-faceted story about family, loss, friendship and love. It is also about letting go of the past, and moving forward. This is a worthwhile read for all contemporary lovers, and for people that want to check out a 'reverse dystopian'. Highly recommend you to keep a box of tissues nearby if you're a crier like me!
Thank you to Bloomsbury Australia for providing an ARC in exchange for an honest review.
The following two tabs change content below.
Joy is the head honcho of
Thoughts By J
. Her favourite genres are fantasy, sci-fi, mysteries, and the occasional romance that makes her heart beat faster. You'll find she's quite sporadic with her blog posts, but will definitely find the time to reply to all your comments, and visit your blogs...it's just a matter of when.