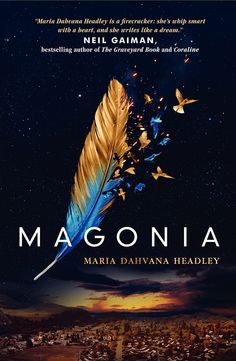 Title: Magonia
Author: Maria Dahvana Headley
Rating: ★ ★ ★ ☆ ☆
Genre: Young Adult, Fantasy
Format Read: ARC, 320 pages
Publication Date: 28th April 2015 by HarperCollins Australia
Synopsis: "Aza Ray is drowning in thin air.

Since she was a baby, Aza has suffered from a mysterious lung disease that makes it ever harder for her to breathe, to speak—to live.

So when Aza catches a glimpse of a ship in the sky, her family chalks it up to a cruel side effect of her medication. But Aza doesn't think this is a hallucination. She can hear someone on the ship calling her name.

Only her best friend, Jason, listens. Jason, who's always been there. Jason, for whom she might have more-than-friendly feelings. But before Aza can consider that thrilling idea, something goes terribly wrong. Aza is lost to our world—and found, by another. Magonia.

Above the clouds, in a land of trading ships, Aza is not the weak and dying thing she was. In Magonia, she can breathe for the first time. Better, she has immense power—and as she navigates her new life, she discovers that war is coming. Magonia and Earth are on the cusp of a reckoning. And in Aza's hands lies the fate of the whole of humanity—including the boy who loves her. Where do her loyalties lie?" (Taken from Goodreads)
[divider]
Magonia was a delightful read, but it also missed the mark for me. The blurb is right to compare it to Neil Gaiman's Stardust in terms of being magically whimsical, but it was by no means the same.
Aza Ray is drowning, and no one knows why. She was born with a pair of troubled lungs and told she would not live past the age of 10, and then 12, and finally 16. A few days before her 16th birthday, Aza Ray sees a ship in the sky and the name Magonia beings to haunt her like a forgotten dream. No one believes her about this ship in the sky except for her best friend Jason, and soon she begins to think she'd imagined it. All is well until the eve of her 16th birthday when a bird flies through her bedroom window screaming its lungs out and buries itself into Aza Rays' own lungs. Aza Ray is rushed to the hospital, but she doesn't make it…until she wakes up on a ship in the sky.
This book is certainly imaginative and unique – the sky is ruled by birds and other flying creatures who travel across the skies on ships carried by sky-whales that turn air into clouds. How crazy! I loved how cool the concept of Magonia was but, unfortunately, the execution was not as enjoyable.
The language and writing style was what bothered me the most about Magonia. It was certainly unique with its uses of numbers and symbols, but it was also much too random for me. For example:
"All I've got is (   ).

Jason's fingers are running up and down my hand, and his other hand is petting my wrist and, and, and. 

&,&,&

!!!!

I can't look at him." – Pg 58. 
The book read more like a diary entry, which led to a general lack of world-building because Aza's thoughts were basically a whole heap of !!! and ???
While I enjoyed the world of Magonia, the place also left a lot to be desired. I couldn't really understand the way their world worked, especially with regards to their hierarchy, and half the time I was confused as to where the plot was heading.
Aza wakes up to find herself the heir of the captain of the ship Amina Pennarum, a bird-woman that had her bird-singing-voice stripped from her. But her lost bird haunts the ship with its sad song and tormented cries and…what the hell is going on? There are talks about doing the right thing for the sky-birds and stealing back the crops from the 'drowners' (people on Earth), and Aza being this rare saviour with a magical voice that will help them on this mission. However, the whole time I wondered why – why singing? How did these bird-people come about? Why does singing give them magic? Once again, unique concept but poorly executed.
Aza starts off being unable to sing, but when danger occurs she suddenly finds her voice and miraculously is able to sing very well and be powerful all of a sudden – UM HOW?! She's partnered with the first-mate or something and the whole ship makes off to a secret underground seed-fund where the world's seeds are kept in case the Earth is wiped out one day.
The climax of the story happens suddenly and ends abruptly as well, but it was quite touching and beautiful. Aza finds her way back home and I admired her for choosing to suffer without air on earth, but with her family, rather than in the sky where she comes from.
In summary, Magonia was a very unique concept but it missed the mark for me overall. If you're a fan of magical realism that leans more towards fantasy, then this is the book for you.
Thank you to HarperCollins Australia for an ARC in exchange for an honest review.
The following two tabs change content below.
Joy is the head honcho of
Thoughts By J
. Her favourite genres are fantasy, sci-fi, mysteries, and the occasional romance that makes her heart beat faster. You'll find she's quite sporadic with her blog posts, but will definitely find the time to reply to all your comments, and visit your blogs...it's just a matter of when.