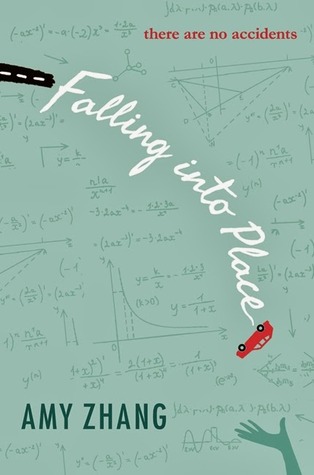 Title: Falling Into Place
Author: Amy Zhang
Rating: ★ ★ ★ ★ ☆
Genre: Contemporary, Young Adult, Romance
Format Read: E-Arc, 215 pages
Publication Date:  1st September 2014 by Harper Collins Australia
Synopsis: "On the day Liz Emerson tries to die, they had reviewed Newton's laws of motion in physics class. Then, after school, she put them into practice by running her Mercedes off the road.

Why? Why did Liz Emerson decide that the world would be better off without her? Why did she give up? Vividly told by an unexpected and surprising narrator, this heartbreaking and nonlinear novel pieces together the short and devastating life of Meridian High's most popular junior girl. Mass, acceleration, momentum, force—Liz didn't understand it in physics, and even as her Mercedes hurtles toward the tree, she doesn't understand it now. How do we impact one another? How do our actions reverberate? What does it mean to be a friend? To love someone? To be a daughter? Or a mother? Is life truly more than cause and effect? Amy Zhang's haunting and universal story will appeal to fans of Lauren Oliver, Gayle Forman, and Jay Asher." (Taken from Goodreads)
[divider]
What can I say about Falling Into Place? If I could describe Amy Zhang's debut novel in a few words I'd say…Incredible. Heartbreaking. Poignant. Moving. That's it folks, I've officially been rendered speechless by the awesomeness of this book.
Falling Into Place follows teenager Liz Emerson as she struggles to live in a world where nobody understands her. Riddled with guilt for the people affected by her 'mean girl' antics and drowning in the weight of depression and loneliness, Liz decides ending her life is the only escape.
Through short glimpses of important moments before, during and after her horror crash, Julia and Keenie, Liz's best friends as well as her absent mother, and the mysterious Liam are introduced, as we learn just how Liz has impacted each of their lives and just why she believes they are better off without her.
Liz is not the typical likeable protagonist, but unlike other novels where a book is often ruined because of this, I think it makes the novel better. Liz is fascinating in that her antics can be so selfish and unfeeling, and yet she immediately or eventually regrets them and understands what she did was wrong. So unlike other characters of this trope,  Liz  had these redeemable qualities as she often tried to make up for the wrongs she had committed.
This is definitely a novel focused on character growth and the journey a person can take when they realise the consequences of their actions. As a reader, I could definitely relate to some of Liz's thoughts and the idea that even the smallest actions can have unintentional consequences, and the overwhelming guilt that can follow from these.
I absolutely loved the beautiful writing style adopted by Zhang. Her unique use of the 'mysterious narrator' is captivating, and coupled with the short and punchy non-linear chapters makes for one incredibly addictive read. The novel touches on a large range of topics from bullying, depression and cheating, family problems to teen pregnancy… sometimes to the point where it could be considered a little bit of an overkill (unintentional puns for the win).
One thing I especially liked about this novel was that the fleeting (not sure if you can fully call it romantic) interactions between Liam and Liz both before and after the accident are written in such a way that it's clear the 'romance' is not the main focus of the novel. Lately, I'm finding in these kinds of YA novels that the core focus is on a romance between two characters and how one person inevitably saves the other person, or attempts to make their life better.
I'm certainly not complaining. I'm a sucker for a romantic storyline as much as the next person, but I love the idea that sometimes a novel can focus primarily on the importance of friendship and family, especially in times of tragedy and still be as heartfelt and touching than one focused purely on romance. Is that just me that thinks that?
Falling Into Place definitely highlights the imperfections of people. Every character is flawed, and I think that's what makes this novel. Friendship certainly isn't perfect. Family isn't any easy task either. The reality is people are going to hurt each other; it's pretty much inevitable. But the perseverance to move past these difficulties in the face of tragedy is such a beautiful theme throughout this book.
If you're going to read Falling Into Place, which I highly suggest you do, prepare yourself with chocolate, ice-cream and definitely tissues because by the end of this book you'll be balling like a baby, just like I was.
I'd compare it to maybe If I Stay and Before I Fall, so if you're a fan of either of these books there's a very good chance you'll love Falling Into Place.
Easily one of my favourite reads of 2014, this novel will stay with you long after you turn the final page.
Thank you to Harper Collins Australia for providing a digital copy in exchange for an honest review.
The following two tabs change content below.
Alana
Alana is second in command of ThoughtsbyJ. A 22-year old book lover with an incurable case of wanderlust, she often struggles to find time to blog and comment (but she gets there eventually). She doesn't have a favourite genre, as long as she enjoys the book it's a win!