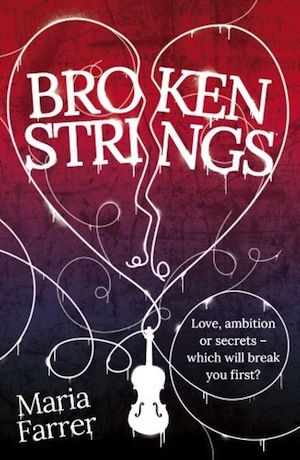 Title: Broken Strings
Author: Maria Farrer
Rating: ★ ★ ☆ ☆ ☆
Genre: Contemporary, Young Adult
Format Read: Paperback, 352 pages
Publication Date:  July 2014 by Scholastic Australia
Synopsis: "It is the story of a brilliant young violinist, her determination and struggle to achieve her dreams and the discovery that she is at the center of an extraordinary secret that has pulled apart her family for two generations. Jess, a talented 17-year-old violinist, suffers from stage-fright as she auditions for a place at a prestigious music school. Her family do not have enough money for her to continue to study so when she fails, she vows not to play again. Until her wealthy grandmother – estranged from her family since Jess's mother fell pregnant – shows up at their doorstep and promises six months of tuition in exchange for Jess moving to live with her. Once ensconced in her grandmother's rich, but empty, life she starts to uncover the mystery of why her grandmother never spoke to her mother again, and the secret which tore her family apart."  (Taken from Goodreads)
[divider]
Warning: Brutally honest review ahead!
So I read this book awhile ago… and I've been putting off writing this review because I reaaallly hate being mean about books when I know authors put time and effort into writing. So I'm really sorry for the things I'm about to say. (Please forgive me… I am a nice person in real life – ask Joy… she'll vouch for me!)
Broken Strings by Maria Farrer follows Jess, a 17-year-old violinist who bombs the most important audition of her life and consequently fails to obtain a scholarship that would have secured her place in an esteemed music school. Enter Jess' estranged (and presumed dead) grandmother who offers her a six-month deal to live in London and be tutored and trained by the best musicians and musical therapists (who knew that was a thing?) in the vicinity. So Jess packs up her things, runs away from her parents and moves in with her grandmother where she proceeds to moan and whine about every last living thing.
Alright, I admit a minimum of six hours a day sitting on a chair practicing violin would not be the easiest of tasks, and her grandmother is on the standoffish side a majority of the time. But Jess is honestly the most unlikeable character I've read in a long time (and recently I've read some reaaaaaally unlikeable characters).
I get it. She's a teenager and doesn't understand that everyone's just trying to help. But really girl? REALLY?
I'm sorry… but your long lost grandmother comes out of nowhere and offers you free music tuition with the best people in the classical music industry… and all you do for the majority of the 352 pages is complain about how much your life sucks?
Okay, I may be a tad harsh… I can understand that the idea of a grandmother who you thought was dead suddenly appearing alive and well on your doorstep, is completely overwhelming. But I just couldn't get over how ungrateful Jess was. Like seriously, there's snarky and condescending that is mildly tolerable… and then it gets to a point where it's like really? Must you turn everything into this melodramatic monologue about how unfair life is? I was seriously losing my patience with this character and the book overall.
And then we get to this 'love triangle' between the musical virtuoso Stefan and Charlie, her grandmother's driver. Stefan she hasn't heard from since she ran out of her audition, although this proves to be a big (and rather silly) misunderstanding on both of their parts. Charlie the poor sucker is willing to put the job Jess' grandmother gave him, which virtually saved him from poverty, on the line for Jess who's not even really interested in him as more than a friend, and is blatantly using him as a distraction. NO. JUST NO.
And that's about the time I closed the book and refused to finish it. I just didn't care enough about Jess or the flimsy 'love triangle' to want to find out what happened at the end. It was uninteresting and I felt no need to finish it… so I didn't.
I was incredibly disappointed because the premise sounded mildly interesting and I could see this storyline actually being done well… but it just wasn't. This is my first DNF as a co-blogger and I hope it's my first and only one! (Maybe I've jinxed myself now for saying that)
Thank you to Scholastic Australia for a copy in exchange for an honest review!
The following two tabs change content below.
Alana
Alana is second in command of ThoughtsbyJ. A 22-year old book lover with an incurable case of wanderlust, she often struggles to find time to blog and comment (but she gets there eventually). She doesn't have a favourite genre, as long as she enjoys the book it's a win!