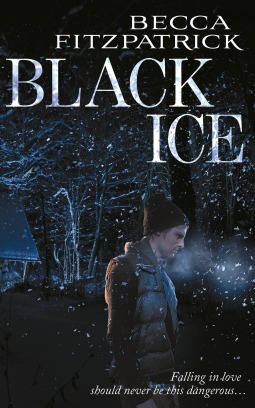 Title: Black Ice
Author: Becca Fitzpatrick
Rating: ★ ★ ☆ ☆ ☆
Genre: Mystery, Thriller, Romance
Format Read: Paperback, 292 pages
Publication Date: 7th October 2014 by Simon & Schuster Australia
Synopsis: "Britt Phieffer has never been that adventurous, but that's about to change. Wanting to impress her ex-boyfriend, Britt convinces best friend, Korbie, to take a trip with her and go trekking through the Grand Teton Mountains in Wyoming.
But when a freak storm leaves the girls stranded they seek shelter in a cabin, and find two knights in shining armour, Shaun and Mason, who are also hiding out.

But all is not as it seems, and Britt quickly discovers that the guys are there for reasons other than hiking…dangerous reasons that mean they need to get off the mountain, fast. In exchange for her life, Britt is forced to guide them down, and as they set out on a harrowing journey through the cold and snow, Britt realises the only way to get out of this alive is to pretend she is on their side.

But playing nice is hard, especially when Britt is unsure whether Mason, gorgeous and sexy, is the enemy or an ally. And as she begins to lose track of who is in control it is only a matter of time before things turn deadly…"  (Taken from Goodreads)
[divider]
Let me start off by telling you a story. In my naive high school stage, I picked up a copy of Hush, Hush because the cover was pwoarrr. I was never a fan of angel stories (have yet to read one that blows my mind), so I was pulled in by the pretty cover and the small hope that perhaps this would be the one book that changed my mind. Needless to say, I was not impressed. It was one of the final books I read before I took a long hiatus from reading, so I remember the story quite vividly. And Patch? He was awful and creepy and made me hate angels even more (until Castiel came along, but that's another story).
It's hard to forget a book that contributed to my sudden refusal to read, so it was to no surprise that I found myself avoiding Fitzpatrick's books altogether. When I received Black Ice in the mail for review, I was hesitant with it. But in the end, I had a job to do and I was thankful that Simon & Schuster took the time out to send me a copy. Having read a few reviews for the book before cracking it open, I am happy to admit I went into it with an open-mind. This book is nothing like Fitzpatrick's first series – plot wise – but did I enjoy it? Well, I'm conflicted with that.
Britt Pfeiffer is a high school senior who's heartbroken because her boyfriend went off to college and broke up with her for no reason. To resolve this, she convinces her best friend Korbie to go hiking with her across the Teton Range during Spring Break. Britt tells us she's been training for this trip all year, and she's as prepared as she can be. That is, until a freak snowstorm suddenly hits Britt and Korbie as they're making their way to Korbie's cabin in the mountains.
Falling into a petty argument about what to do and trying to prove who is better than the other, Britt decides to take charge and convinced Korbie that they needed to look for shelter. If they stayed in their car, they'd freeze to death. So the only logical thing to do is hike until they find a cabin. Armed with Korbie's brother's detailed map of the mountains, the two of them head out in search of shelter. And here is where I make my first face palm. They leave but didn't think to take any of their expensive gear or FOOD from the car. They. Didn't. Bring. Food. Or. Water.
So how long did you train again, Britt?
From the blurb, we already know that they stumble upon a cabin where two sexy guys open the door. Britt had bumped into one of them before and he'd helped her out once so she suddenly feels safe. Until they turn on her and Korbie that is. And that's where the story takes off, with Britt trying to prove she's brave and smart as she's being held hostage by two men who wants her to lead them off the mountain discreetly. Her 'smarts' are contrasted with Korbie's bimbo characteristics, which I found annoying because their relationship sounds freaking unstable. I don't understand why they're even friends especially when the presence of a guy can turn them against each other so easily.
I'm not sure I enjoyed any one of the characters. Britt acknowledges that she's a spoilt daddy's girl and never cared before. That is until she gets kidnapped and has to 'protect' herself. We're basically told that she grows as a character because she's trying to be all sneaky and smart … but in reality, she was just looking for the next guy to save her. Whether it was her ex-boyfriend, Calvin, or Mason the grumpy fugitive, Britt's always thinking about one or the other and how they could save/help her. ALWAYS. She has flashbacks of her relationship with Calvin and even though she knows he treated her badly, she still can't shake that she's in love with him out of her mind. And in the midst of this, she's dreaming about Mason and his sexy abs and kissable lips.
So what is this book about? Well we have a lot of scenes of them moving through the freezing snow covered mountain. And a bear … and some shooting around. But that's all background noise to the romance. Yes there's a screwed up romance – how can there not be. Have you met Patch? I'm just going to say that pretty much all the characters are screwed up in some way. And the romance was creepy.
Plot wise, it was unbearably slow at the beginning and middle but I'm happy to say it did pick up a lot and the last quarter was jam-packed with action. The mystery was not so much a mystery because every twist was pretty predictable. The thing I liked most about the book was the atmosphere. You can tell the author did her research because I could feel the world she'd built very clearly. I felt cold reading about Britt's hike across the snow, and almost shivered when she was left outside with little to no clothes. Well done to Fitzpatrick for the wonderfully descriptive atmosphere. Another thing that was written well was the psychology of the human mind. While it wasn't explored much, I enjoyed the lead up to the ending and how the build up of a horrid childhood led to the distorted mentality of one of the characters.
Unfortunately, the bad points outweighed the good and I found myself disliking the story overall. Black Ice is certainly better and stronger than Hush, Hush, but the writing has not improved as much as I had hoped. I know there are many people that enjoyed this book, so do check out their reviews as well for a two-sided opinion. Sadly, this one was just not for me.
Thank you to Simon & Schuster Australia for providing an ARC in exchange for an honest review. 
The following two tabs change content below.
Joy is the head honcho of
Thoughts By J
. Her favourite genres are fantasy, sci-fi, mysteries, and the occasional romance that makes her heart beat faster. You'll find she's quite sporadic with her blog posts, but will definitely find the time to reply to all your comments, and visit your blogs...it's just a matter of when.