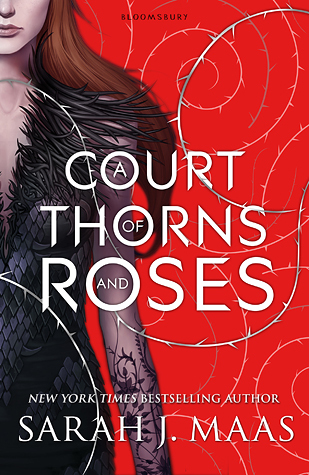 Title: A Court of Thorns and Roses (ACOTAR #1)
Author: Sarah J. Maas
Rating: ★ ★ ★ ★ ★
Genre: New Adult, Fantasy, Fairytale retelling
Format Read: ARC, 416 pages
Publication Date: 7 May 2015 by Bloomsbury Australia
Synopsis: "Feyre's survival rests upon her ability to hunt and kill – the forest where she lives is a cold, bleak place in the long winter months. So when she spots a deer in the forest being pursued by a wolf, she cannot resist fighting it for the flesh. But to do so, she must kill the predator and killing something so precious comes at a price.

Dragged to a magical kingdom for the murder of a faerie, Feyre discovers that her captor, his face obscured by a jewelled mask, is hiding far more than his piercing green eyes would suggest. Feyre's presence at the court is closely guarded, and as she begins to learn why, her feelings for him turn from hostility to passion and the faerie lands become an even more dangerous place. Feyre must fight to break an ancient curse, or she will lose him forever."
[divider]
There are not enough adjectives in the world to describe the brilliance of this novel. I was barely able to contain myself when I received the ARC in the mail – there was a lot of fangirling and I may have danced around my room a little. Just a little.
A Court of Thorns and Roses was my most anticipated book of the year, and I'm so happy to say that it did not disappoint. Far from it actually…it met my expectations and went beyond it ten-fold.
ACOTAR is a retelling of Beauty and the Beast, but with fey. FEY. I've read stories about fairies before, but none of them can even compare to how amazing this book is. Sarah's imagination is truly out of this world and her world-building never ceases to amaze me.
We follow our protagonist, Feyre, on a journey that sees her leaving her family for a life beyond the wall that divides her people from the magical (and evil) fey. Having killed a sacred fey-wolf, Feyre is forced to forfeit her own life in return for the one she took…but little does she realise, her captor Tamlin has other things in store for her.
The journey that Sarah takes the reader on through this book is beautiful. The world-building is magical, and as pieces of the story fall together, we experience a rollercoaster of emotions from hate to fear to love. And oh boy, do I love ALL THE CHARACTERS.
Feyre is a total badass. She's a survivor, having been the sole provider for her family before she went over the wall. She's also smart and the inner Belle in her does shine through. I'm so, so, so glad to have met a character like Feyre, who loves her family enough to sacrifice her own life for them.
And then there's Tamlin. OH HOLY HELL TAMLIN, YOU ARE THE EPITOME OF PERFECTION IN A CHARACTER. Why can't you be real? Tamlin definitely has his flaws, but deep down he is the most caring person alive. Everything he does is to protect his people, and you just can't fault a guy that puts others' lives before his.
Can we all just take a moment to appreciate how perfect the romance is as well? This book is how ALL books in the new adult genre should be. There are definitely sizzling moments between Feyre and Tamlin, but Sarah has written it so well that it just felt right. There was a natural progression with their relationship and when the deed occurs (wink wink), it just felt like the right moment. New adult fantasy – I approve!
ACOTAR moves at a fast pace and the action never ceases. There was not a single page that I found boring, which is a feat that's really hard to achieve. Plus you all know how picky I am with books…heh.
I am so, so, so very excited for you all to read this book. Sarah J. Maas can do no wrong, and I highly recommend that you buy a copy of ACOTAR as soon as you can. You won't regret it, trust me.
Thank you Bloomsbury Australia for providing an ARC in exchange for an honest review.
The following two tabs change content below.
Joy is the head honcho of
Thoughts By J
. Her favourite genres are fantasy, sci-fi, mysteries, and the occasional romance that makes her heart beat faster. You'll find she's quite sporadic with her blog posts, but will definitely find the time to reply to all your comments, and visit your blogs...it's just a matter of when.